As soon as the summer season hits Pakistan, we all have to resort to Air Conditioners to keep us cool. Pakistan experiences very hot temperatures in the summers which leaves us no choice but to use air conditioners throughout the day.
But this also means that the electricity bills are increased significantly. Even a single split 1.5 ton AC used for around 4 hours a day can bring a bill to RS. 14,000 easily.
Although there are many ways in which you can reduce the heat in your homes to subsequently save on electricity bills, most of the methods of insulation can cost a fortune.
Which leaves us but no choice to cling all our hope of saving money on electricity bills by using an Air Conditioner with inverter technology. But the real question is, can inverter technology really help save money on electricity bills in Pakistan?
In order to find out, we must first learn how the inverter technology works.
---
How does Inverter Technology work?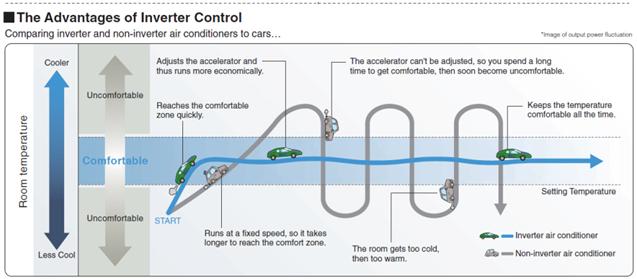 In a regular split AC, the compressor is either fully turned on or off. In simple words, whenever the compressor is turned on to provide cooling in a room, it operates at its maximum capacity burning electricity units at their peak.
When the AC reaches the threshold temperature set by the user, it automatically turns off the compressor but turns it back to maximum power when the temperature sensor detects threshold temperature getting out of range.
But when this very same AC is installed with Inverter technology, things work quite differently.
With inverter technology, the air conditioner has the power to control the maximum electricity consumed by the compressor. In simple words, the AC automatically adjusts how much power it needs when cooling.
If the AC reaches near the threshold temperature, the power consumption is lowered, thus consuming fewer electricity units. With inverter technology, the compressor is never turned off but constantly operates at different power levels.
The compressor on an AC with inverter technology is intelligently controlled by the system installed on the AC.
---
Making best use of Inverter Air Conditioners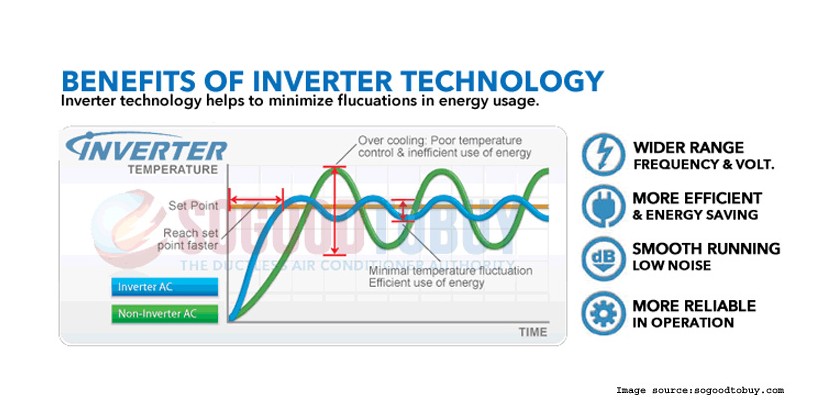 Although inverter ACs are designed to help you save money on electricity bills by consuming less power, you need to make sure that you install the right kind of AC.
Air conditioners depend on the room size they are installed in. If you are installing a 1.0-ton inverter Ac in a room that is quite large, don't expect it to help you save money because the intelligent system on the AC will keep the power consumption high in order to stabilize the temperature in the room.
However, if you install a 1.5 ton AC in a medium sized room, the AC will adjust energy usage to keep it in the middle, thus making sure electricity units are not rapidly consumed.
With the right inverter, AC installed in the right sized room, you can save up to 30% on electricity bills cutting down a Rs.14,000 electricity bill to RS.9,800.
We hope you are now convinced that the inverter technology is indeed a life savior for many people when it comes to cutting bills. Start comparing prices and get yours today. Most inverter air conditioners start from RS. 37,000 for 1 ton.