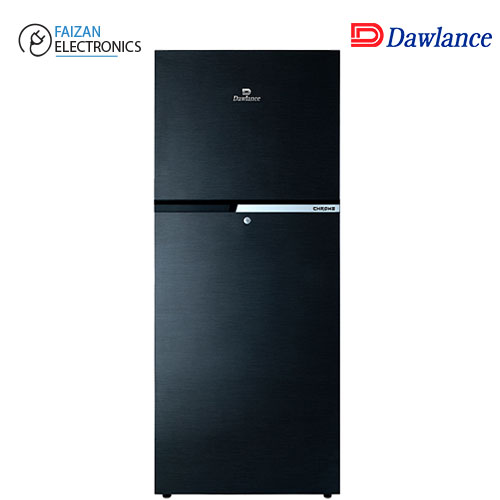 Dawlance Refrigerator 9173 WB Chrome Price
The Lowest price of Dawlance Refrigerator 9173 WB Chrome in Pakistan is Rs. 54,439, and the estimated average price is Rs. 56,606. Previously the price was Rs. 53,884 in July, approximately a 1% increase. Latest Aug 2022 price from tracked on major eCommerce stores all across Pakistan.

Dawlance Refrigerator prices have gone down 1% in the last 30 days. Dawlance Refrigerator 9173 WB Chrome is widely available online.
Capacity: 330 L
Inverter: No
Door Style: Metal Door
LED Display: No
Dawlance is a brand known for its reliability. This refrigerator by Dawlance belongs to its all-new range of hybrid cooling technology which provides long hours of cooling retention all thanks to its specialized foaming technology. Apart from this, it has many other distinct features that make it worth its price. These features include low voltage technology and 30% faster cooling, which make it energy efficient and, hence, a cost-effective purchase. Overall, it consumes 55% less energy than conventional refrigerators. Furthermore, it has an A+ energy rating, optimized door pockets, and a wider body. It comes with 12 years warranty and 1 year extended warranty.
Dawlance Refrigerator 9173 WB Chrome Price in Pakistan
The prices are collected from the best online stores in Pakistan like iShopping.pk, Aysonline.pk, Daraz.pk, Eezepc.com - updated Aug 2022.
Price Changes
| | |
| --- | --- |
| Date | Lowest Price |
| Oct 2021 | Rs. 44,200 |
| Oct 2021 | Rs. 45,526 |
| Oct 2021 | Rs. 47,000 |
| Nov 2021 | Rs. 43,900 |
| Nov 2021 | Rs. 45,600 |
| Nov 2021 | Rs. 47,000 |
| Feb 2022 | Rs. 49,262 |
| Feb 2022 | Rs. 50,999 |
| Feb 2022 | Rs. 51,499 |
| Feb 2022 | Rs. 49,262 |
| Mar 2022 | Rs. 51,499 |
| Mar 2022 | Rs. 51,479 |
| Mar 2022 | Rs. 48,924 |
| Mar 2022 | Rs. 51,449 |
| Mar 2022 | Rs. 50,999 |
| Mar 2022 | Rs. 48,632 |
| Apr 2022 | Rs. 48,549 |
| May 2022 | Rs. 50,969 |
| May 2022 | Rs. 53,000 |
| Jun 2022 | Rs. 53,328 |
| Jun 2022 | Rs. 52,773 |
| Jul 2022 | Rs. 53,884 |
| Jul 2022 | Rs. 54,439 |
| Aug 2022 | Rs. 54,439 |
Dawlance Refrigerator 9173 WB Chrome Specs
General
| | |
| --- | --- |
| Capacity | 330 L |
| Inverter | No |
| Door Style | Metal Door |
| Door Lock | No |
| LED Display | No |
| Instant Cooling | Yes |
| Low Voltage Startup | Yes |
| Size | 19.8 Cubic ft |