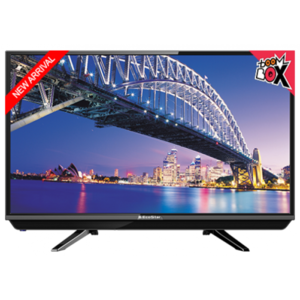 EcoStar 65 Inch 65U568 LED TV Price
The Lowest price of EcoStar 65 Inch 65U568 LED TV in Pakistan is Rs. 116,204, and the estimated average price is Rs. 116,204. Previously the price was Rs. 107,500 in January, approximately a 7% increase. Latest Dec 2021 price from tracked on major eCommerce stores all across Pakistan.

EcoStar LED TV prices have gone down 10% in the last 30 days. EcoStar 65 Inch 65U568 LED TV is available at very limited stores online.
Screen Size: 65-inch
Resolution: 1920 x 1080 (FHD)
Smart Features: Yes
Hdmi: Yes
The Ecostar 65U568 LED TV, aka EcoStar CX-65U568, is a flat Smart TV that delivers you with a great experience and sleek design. The near bezel-less screen coupled with the elegantly designed speaker panel add to the overall aesthetics of the EcoStar 65U568 LED TV. The LED TV comes equipped with a quad-core processor, Android TV OS for smart capabilities, and EcoStar's own Motion Engine and RealColor Engine for image refinery and enhanced contrast. The huge 65-inch display delivers excellent picture quality with a high level of detail and great contrast, but the only real lacking in the EcoStar 65U568 is the lack of a built-in woofer and a 4K resolution.
EcoStar 65 Inch 65U568 LED TV Price in Pakistan
The prices are collected from the best online stores in Pakistan like iShopping.pk - updated Dec 2021.
Price Changes
| | |
| --- | --- |
| Date | Lowest Price |
| Feb 2019 | Rs. 102,999 |
| Feb 2019 | Rs. 104,249 |
| Feb 2019 | Rs. 104,499 |
| Feb 2019 | Rs. 104,000 |
| Mar 2019 | Rs. 103,999 |
| May 2019 | Rs. 104,000 |
| Jul 2019 | Rs. 106,999 |
| Jul 2019 | Rs. 95,000 |
| Jul 2019 | Rs. 104,000 |
| Jul 2019 | Rs. 95,500 |
| Oct 2019 | Rs. 104,499 |
| Nov 2019 | Rs. 104,900 |
| May 2020 | Rs. 104,400 |
| May 2020 | Rs. 104,900 |
| Jun 2020 | Rs. 116,204 |
| Jun 2020 | Rs. 104,900 |
| Oct 2020 | Rs. 116,204 |
| Oct 2020 | Rs. 104,900 |
| Dec 2020 | Rs. 116,204 |
| Jan 2021 | Rs. 104,900 |
| Jan 2021 | Rs. 107,500 |
| Jan 2021 | Rs. 116,204 |
| Dec 2021 | Rs. 116,204 |
EcoStar 65 Inch 65U568 LED TV Specs
General
| | |
| --- | --- |
| Screen Size | 65-inch |
| Resolution | 1920 x 1080 (Full HD) |
| Smart Features | Yes |
| Built-in Woofer | No |
| Hdr | Yes |
| Curved Screen | No |
| Usb | Yes |
| Hdmi | Yes |
| Bluetooth | No |