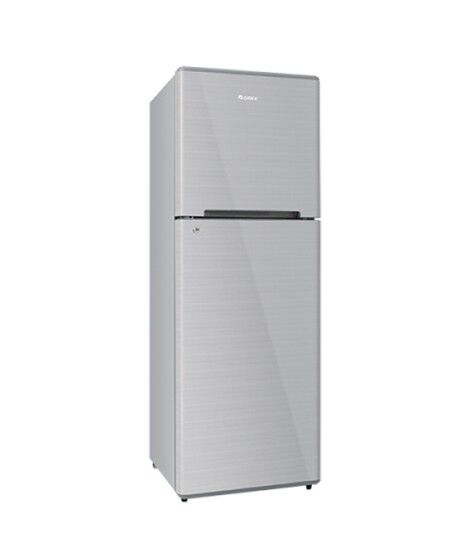 Gree GR-N310V-CG1 Nevada Refrigerator Price
The Lowest price of Gree GR-N310V-CG1 Nevada Refrigerator in Pakistan is Rs. 61,900, and the estimated average price is Rs. 62,215. Previously the price was Rs. 55,000 in September, approximately a 11% increase. Latest Dec 2022 price from tracked on major eCommerce stores all across Pakistan.

Gree Refrigerator prices have gone down 5% in the last 30 days. Gree GR-N310V-CG1 Nevada Refrigerator is available at very limited stores online.
Capacity: 310 L
Inverter: Yes
Door Style: Glass door
Led Display: No
Gree's Nevada Refrigerator GR-N310V-CG1 has a temperature control technology that keeps your food delicious, healthy, and fresh having dimensions of 630 x 622 x 1714 (mm). The refrigerators designed by GREE are specially adapted for Pakistani climates that feature a direct cooling system and the temperature range is +16 'C - +43 'C to make them suitable for our country's climate. A remarkable feature of these refrigerators is the use of SECOP, the world's best European compressor. The compressor is able to automatically keep extensive operation under low rotational speed tends to be energy efficient, operate under less noise, and have less energy consumption per annum. R600a refrigerant is suitable as a green gas that is safe for the climate because it has no destructive effect on the environment. The excellent thermodynamic properties offered by Gree GR-N310V-CG1 ensure high energy efficiency and the low operating pressure improves noise output to as low as 125v
Gree GR-N310V-CG1 Nevada Refrigerator Price in Pakistan
The prices are collected from the best online stores in Pakistan like iShopping.pk - updated Dec 2022.
Price Changes
| | |
| --- | --- |
| Date | Lowest Price |
| Apr 2022 | Rs. 60,499 |
| May 2022 | Rs. 55,090 |
| May 2022 | Rs. 56,661 |
| May 2022 | Rs. 56,100 |
| Jun 2022 | Rs. 59,237 |
| Jun 2022 | Rs. 56,661 |
| Jul 2022 | Rs. 59,237 |
| Sep 2022 | Rs. 55,000 |
| Nov 2022 | Rs. 61,900 |
| Dec 2022 | Rs. 61,900 |
Gree GR-N310V-CG1 Nevada Refrigerator Specs
General
| | |
| --- | --- |
| Capacity | 310 L |
| Inverter | Yes |
| Door Style | Glass door |
| Led Display | No |
| Door Lock | Yes |
| Instant Cooling | Yes |
| Low Voltage Startup | Yes |
| Size | 11 cu. ft |