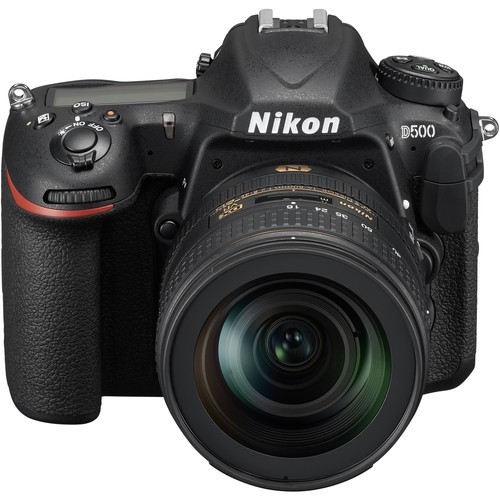 The Lowest price of Nikon D500 in Pakistan is Rs. 200,000, and the estimated average price is Rs. 252,333. Previously the price was Rs. 215,000 in July, approximately a 8% decrease. Latest Jan 2023 price from tracked on major eCommerce stores all across Pakistan.

Nikon DSLR prices have gone down 2% in the last 30 days. Nikon D500 is widely available online.
Brand: Nikon
Lens mount: Nikon F bayonet mount
Image Sensor Format: DX
Image Sensor Type: CMOS
Megapixels: 21MP
The Nikon D500 is a high-end professional DSLR camera which shoots crazy 21MP images with max resolution of 5568 x 3712. The inside of the camera contains a DX format, CMOS sensor of size 5600 x 3733 mm. It has a Nikon F bayonet mount for the lens and an ISO sensitivity of ISO 100 - 51,200 which is automatic and expandable too (to 50 - 1640000). It can shoot 4K UHD videos at 30 fps and has a Continuous Shooting speed of 10 fps. It offers an extra storage option of XQD and has a TFT touch-sensitive LCD with 170° viewing angle.
Nikon D500 Price in Pakistan
The prices are collected from the best online stores in Pakistan like iShopping.pk, Bnwcollections.com, Shophive - updated Jan 2023.
Price Changes
| | |
| --- | --- |
| Date | Lowest Price |
| May 2020 | Rs. 200,000 |
| May 2020 | Rs. 191,999 |
| Jun 2020 | Rs. 200,000 |
| Jun 2020 | Rs. 212,999 |
| Jun 2020 | Rs. 200,000 |
| Aug 2020 | Rs. 212,999 |
| Aug 2020 | Rs. 200,000 |
| Aug 2020 | Rs. 212,999 |
| Aug 2020 | Rs. 200,000 |
| Dec 2020 | Rs. 215,000 |
| Jan 2021 | Rs. 200,000 |
| Jan 2021 | Rs. 215,000 |
| Jan 2021 | Rs. 200,000 |
| Feb 2021 | Rs. 215,000 |
| Feb 2021 | Rs. 200,000 |
| Feb 2021 | Rs. 215,000 |
| Mar 2021 | Rs. 200,000 |
| Jun 2021 | Rs. 215,000 |
| Jun 2021 | Rs. 200,000 |
| Aug 2021 | Rs. 215,000 |
| Aug 2021 | Rs. 200,000 |
| Oct 2021 | Rs. 215,000 |
| Nov 2021 | Rs. 200,000 |
| Nov 2021 | Rs. 215,000 |
| Nov 2021 | Rs. 200,000 |
| Feb 2022 | Rs. 215,000 |
| Feb 2022 | Rs. 200,000 |
| Jun 2022 | Rs. 215,000 |
| Jun 2022 | Rs. 200,000 |
| Jul 2022 | Rs. 215,000 |
| Jul 2022 | Rs. 200,000 |
| Jan 2023 | Rs. 200,000 |