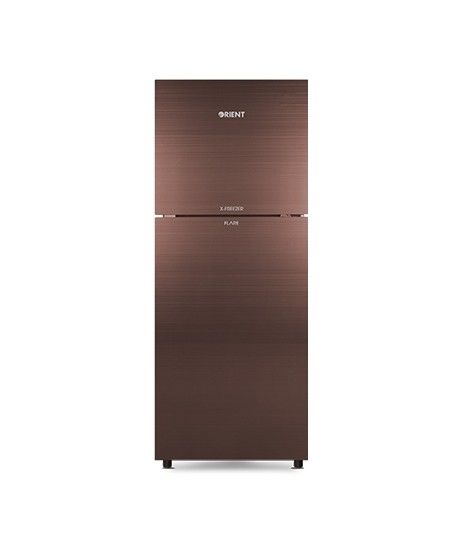 Orient Flare-350 Inverter Refrigerator Price
The Lowest price of Orient Flare-350 Inverter Refrigerator in Pakistan is Rs. 63,499, and the estimated average price is Rs. 68,660. Previously the price was Rs. 60,999 in September, approximately a 3% increase. Latest Sep 2022 price from tracked on major eCommerce stores all across Pakistan.

Orient Refrigerator prices have gone down 1% in the last 30 days. Orient Flare-350 Inverter Refrigerator is widely available online.
Capacity: 350 L
Inverter: Yes
Door Style: Glass door
Led Display: No
Orient brings its Flare series of refrigerators which ensure maximum energy saving while providing the coolest operation. Flare 350 refrigerators from Orient come with a capacity of 350 liters. With its instant freeze function, it takes only 18 minutes to make ice. The thickest insulation provides long-lasting freshness and cooling. Roll bond evaporator provides 40% faster cooling and tougher shelves can bear up to 101 kg load. Furthermore, the humidity control feature in Orient refrigerators keeps the food fresh for longer periods by controlling humidity. These refrigerators are equipped with an anti-fungal gasket which protects the food from bacteria hence providing you with healthy food every time. Moreover, the Japanese technology compressor ensures a longer refrigerator life.
Orient Flare-350 Inverter Refrigerator Price in Pakistan
The prices are collected from the best online stores in Pakistan like iShopping.pk, Daraz.pk - updated Sep 2022.
Price Changes
| | |
| --- | --- |
| Date | Lowest Price |
| Apr 2022 | Rs. 59,400 |
| May 2022 | Rs. 61,900 |
| Jun 2022 | Rs. 73,042 |
| Jun 2022 | Rs. 60,999 |
| Jun 2022 | Rs. 73,042 |
| Jun 2022 | Rs. 60,999 |
| Jun 2022 | Rs. 73,042 |
| Jun 2022 | Rs. 60,999 |
| Jul 2022 | Rs. 57,772 |
| Jul 2022 | Rs. 58,000 |
| Jul 2022 | Rs. 58,883 |
| Sep 2022 | Rs. 60,999 |
| Sep 2022 | Rs. 63,499 |
| Sep 2022 | Rs. 60,999 |
| Sep 2022 | Rs. 63,499 |
| Sep 2022 | Rs. 60,999 |
| Sep 2022 | Rs. 63,499 |
| Sep 2022 | Rs. 63,499 |
Orient Flare-350 Inverter Refrigerator Specs
General
| | |
| --- | --- |
| Capacity | 350 L |
| Inverter | Yes |
| Door Style | Glass door |
| Led Display | No |
| Door Lock | Yes |
| Instant Cooling | Yes |
| Low Voltage Startup | Yes |
| Size | 13 cu. ft |