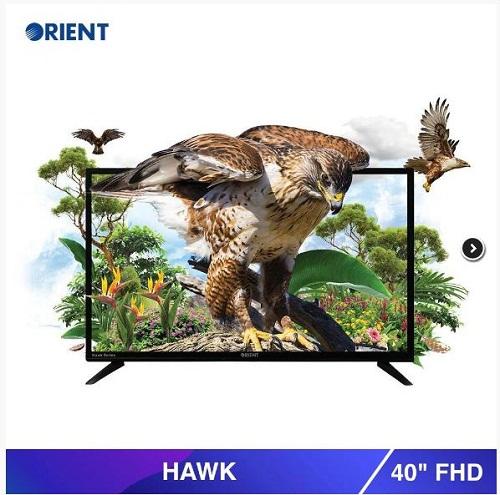 Orient Hawk 40 Inch LED TV Price
The Lowest price of Orient Hawk 40 Inch LED TV in Pakistan is Rs. 39,999, and the estimated average price is Rs. 42,750. Previously the price was Rs. 37,500 in June, approximately a 6% increase. Latest Oct 2021 price from tracked on major eCommerce stores all across Pakistan.

Orient LED TV prices have gone down 8% in the last 30 days. Orient Hawk 40 Inch LED TV is available at very limited stores online.
Screen Size: 40-Inch
Resolution: 1920 x 1080 (FHD)
Smart Features: No
Hdmi: Yes
This refined and sophisticated design comes with a wide range of features that include high quality images along with audio powered by Dolby that provides cinematic experience to its users from the comfort of their homes. Other than this, its key features include black bezel/stand, refresh rate of 50 Hz, HD technology and resolution along with display size of 40-Inch. Its sleek and stylish frame further adds to its value. This LED claims to be durable and comes with a 1-year official warranty.
Orient Hawk 40 Inch LED TV Price in Pakistan
The prices are collected from the best online stores in Pakistan like Homeshopping.pk, iShopping.pk - updated Oct 2021.
Price Changes
| | |
| --- | --- |
| Date | Lowest Price |
| Aug 2020 | Rs. 33,500 |
| Aug 2020 | Rs. 30,600 |
| Aug 2020 | Rs. 28,999 |
| Aug 2020 | Rs. 29,999 |
| Aug 2020 | Rs. 28,999 |
| Aug 2020 | Rs. 29,999 |
| Aug 2020 | Rs. 30,600 |
| Sep 2020 | Rs. 30,499 |
| Sep 2020 | Rs. 29,999 |
| Oct 2020 | Rs. 29,499 |
| Oct 2020 | Rs. 29,999 |
| Nov 2020 | Rs. 30,600 |
| Nov 2020 | Rs. 29,499 |
| Nov 2020 | Rs. 30,600 |
| Nov 2020 | Rs. 28,800 |
| Nov 2020 | Rs. 30,600 |
| Apr 2021 | Rs. 37,500 |
| May 2021 | Rs. 36,000 |
| May 2021 | Rs. 37,500 |
| Jun 2021 | Rs. 37,500 |
| Jul 2021 | Rs. 39,999 |
| Oct 2021 | Rs. 39,999 |