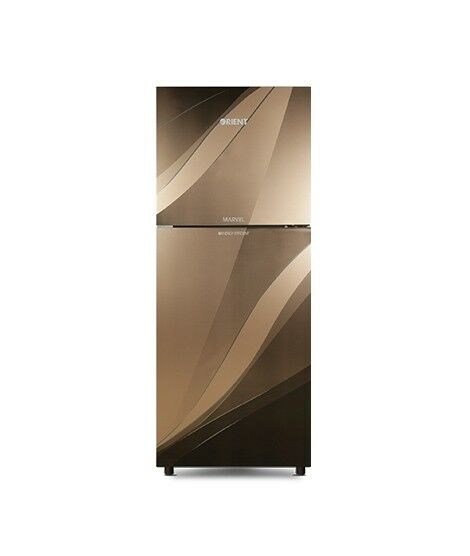 Orient Marvel-330 Inverter Refrigerator Price
The Lowest price of Orient Marvel-330 Inverter Refrigerator in Pakistan is Rs. 71,626, and the estimated average price is Rs. 71,626. Previously the price was Rs. 49,500 in May, approximately a 30% increase. Latest Aug 2022 price from tracked on major eCommerce stores all across Pakistan.

Orient Refrigerator prices have gone down 1% in the last 30 days. Orient Marvel-330 Inverter Refrigerator is available at very limited stores online.
Capacity: 330 L
Inverter: Yes
Door Style: Glass door
Led Display: No
Orient Marvel 330 refrigerator comes with a capacity of 330 liters. Its main features include up to 60% electricity saving, an antifungal gasket, humidity control, thickest insulation, Efficient Cooling Management technology, separate medicine box, Los voltage startup, and more. Enjoy fresh food every time while saving maximum energy. With a roll bond evaporator, 40% faster cooling is achieved. The top-quality steel shelves are tough and can bear up to a 101kg load. A built-in humidity controller keeps the food fresh for longer periods of time. Moreover, the door pockets of the Orient Marvel refrigerator are durable as they are made from ABS material. Furthermore, the Japanese technology compressor provides longer life and nonstop cooling.
Orient Marvel-330 Inverter Refrigerator Price in Pakistan
The prices are collected from the best online stores in Pakistan like iShopping.pk - updated Aug 2022.
Price Changes
| | |
| --- | --- |
| Date | Lowest Price |
| Apr 2022 | Rs. 49,500 |
| Apr 2022 | Rs. 50,499 |
| May 2022 | Rs. 50,490 |
| May 2022 | Rs. 49,500 |
| Jun 2022 | Rs. 71,626 |
| Aug 2022 | Rs. 71,626 |
Orient Marvel-330 Inverter Refrigerator Specs
General
| | |
| --- | --- |
| Capacity | 330 L |
| Inverter | Yes |
| Door Style | Glass door |
| Led Display | No |
| Door Lock | Yes |
| Instant Cooling | Yes |
| Low Voltage Startup | Yes |
| Size | 12 cu. ft |