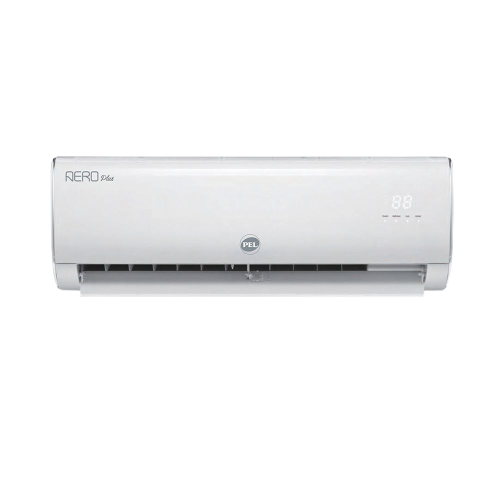 Pel InverterOn AERO Plus AC - 1 Ton Price
The Lowest price of Pel InverterOn AERO Plus AC - 1 Ton in Pakistan is Rs. 86,899, and the estimated average price is Rs. 89,599. Previously the price was Rs. 81,999 in May, approximately a 5% increase. Latest Sep 2022 price from tracked on major eCommerce stores all across Pakistan.

PEL Air Conditioners prices have gone up 2% in the last 30 days. Pel InverterOn AERO Plus AC - 1 Ton is available at very limited stores online.
Capacity: 1 Ton
Inverter Or Fixed: Inverter AC
Energy Saving: Yes
Room Size : Up to 120 Square Feet
Wi-fi: No
BTU (Per Hour): 12000 BTUs/ hour
Pel InverterOn AERO Plus has many features. These features include A+++ technology which ensures maximum efficiency and energy savings up to 60% annually. Even when the voltage is as low as 140 V, the air conditioner starts and continues to work at its best which makes energy saving possible. some of the other features include the latest innovative technology which helps to cool an area in a time span as small as 30 seconds and auto cleaning which allows the air conditioner to clean itself and provides protection against rust. It also has the ability to purify the air as well as extend the life span of the product.
Pel InverterOn AERO Plus AC - 1 Ton Price in Pakistan
The prices are collected from the best online stores in Pakistan like Shophive, Daraz.pk - updated Sep 2022.
Price Changes
| | |
| --- | --- |
| Date | Lowest Price |
| Apr 2022 | Rs. 81,999 |
| May 2022 | Rs. 83,499 |
| May 2022 | Rs. 81,999 |
| Jun 2022 | Rs. 86,899 |
| Sep 2022 | Rs. 86,899 |
Pel InverterOn AERO Plus AC - 1 Ton Specs
General
| | |
| --- | --- |
| Capacity | 1 Ton |
| Inverter Or Fixed | Inverter AC |
| Room Size | Up to 120 Square Feet |
| Wi-fi | No |
| Energy Saving | Yes |
| BTU (Per Hour) | 12000 BTUs/ hour |