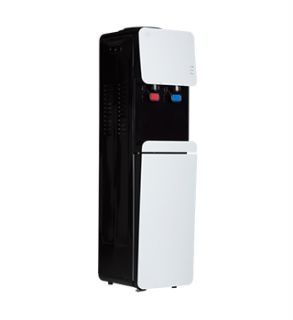 PEL Water Dispenser Premier Price
The Lowest price of PEL Water Dispenser Premier in Pakistan is Rs. 21,000, and the estimated average price is Rs. 21,000. Previously the price was Rs. 18,375 in March, approximately a 12% increase. Latest Jun 2021 price from tracked on major eCommerce stores all across Pakistan.

Pel Water Dispenser prices have gone down 1% in the last 30 days. PEL Water Dispenser Premier is available at very limited stores online.
This low voltage start and energy efficient water dispenser from PEL, also referred to as Premier, allows the buyer to experience hot and cold water, have a fridge cabinet for storage and two taps as per their convenience and much more.
Taps: 2
Fridge Cabinet: Yes
Capacity: 4.9 Liters
PEL Water Dispenser Premier Price in Pakistan
The prices are collected from the best online stores in Pakistan like iShopping.pk - updated Jun 2021.
Price Changes
| | |
| --- | --- |
| Date | Lowest Price |
| Jan 2019 | Rs. 15,554 |
| Mar 2019 | Rs. 15,018 |
| Mar 2019 | Rs. 15,499 |
| Jul 2019 | Rs. 16,054 |
| Sep 2019 | Rs. 16,091 |
| Nov 2019 | Rs. 15,965 |
| Nov 2019 | Rs. 14,300 |
| Jan 2020 | Rs. 10,999 |
| Jan 2020 | Rs. 12,470 |
| Jan 2020 | Rs. 10,359 |
| Jan 2020 | Rs. 10,999 |
| Jan 2020 | Rs. 10,359 |
| Jan 2020 | Rs. 19,999 |
| Mar 2020 | Rs. 16,300 |
| Mar 2020 | Rs. 17,805 |
| Mar 2020 | Rs. 17,983 |
| Mar 2020 | Rs. 17,896 |
| Mar 2020 | Rs. 17,875 |
| Mar 2020 | Rs. 18,050 |
| Apr 2020 | Rs. 18,231 |
| Apr 2020 | Rs. 18,596 |
| Jun 2020 | Rs. 17,896 |
| Aug 2020 | Rs. 18,046 |
| Sep 2020 | Rs. 16,750 |
| Sep 2020 | Rs. 18,046 |
| Oct 2020 | Rs. 16,750 |
| Oct 2020 | Rs. 18,046 |
| Oct 2020 | Rs. 16,750 |
| Oct 2020 | Rs. 16,834 |
| Oct 2020 | Rs. 18,046 |
| Oct 2020 | Rs. 16,750 |
| Oct 2020 | Rs. 18,046 |
| Nov 2020 | Rs. 16,500 |
| Nov 2020 | Rs. 17,000 |
| Nov 2020 | Rs. 16,500 |
| Dec 2020 | Rs. 17,000 |
| Dec 2020 | Rs. 16,150 |
| Dec 2020 | Rs. 16,231 |
| Jan 2021 | Rs. 19,999 |
| Feb 2021 | Rs. 17,410 |
| Feb 2021 | Rs. 17,930 |
| Feb 2021 | Rs. 17,433 |
| Mar 2021 | Rs. 17,930 |
| Mar 2021 | Rs. 18,450 |
| Mar 2021 | Rs. 18,950 |
| Mar 2021 | Rs. 18,250 |
| Mar 2021 | Rs. 17,650 |
| Mar 2021 | Rs. 18,375 |
| May 2021 | Rs. 21,000 |
| Jun 2021 | Rs. 21,000 |
PEL Water Dispenser Premier Specs
General
| | |
| --- | --- |
| Taps | 2 |
| Fridge Cabinet | Yes |
| Capacity | 4.9 Liters |
| Weight | 19 Kg |
| Voltage | 220 Volts |