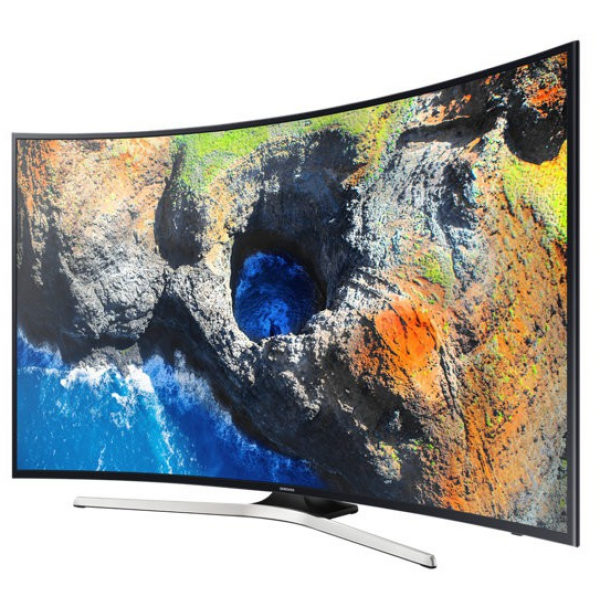 Samsung 65 Inch 65MU7350 LED TV Price
The Lowest price of Samsung 65 Inch 65MU7350 LED TV in Pakistan is Rs. 230,000, and the estimated average price is Rs. 230,000. Previously the price was Rs. 188,999 in April, approximately a 17% increase. Latest Jun 2021 price from tracked on major eCommerce stores all across Pakistan.

Samsung LED TV prices have gone down 3% in the last 30 days. Samsung 65 Inch 65MU7350 LED TV is available at very limited stores online.
With UHD Resolution, 4x that of HD, you can experience vivid and crisp quality of display, now with more color sensitivity through purColour feature and an overall realistic picture quality. This LED TV also comes with Auto Depth Enhancer, which fixes a multi-layered contrast levels to provide a more immersive and in-depth level of viewing experience. It has a beautiful curved design, which besides providing a better experience, also adds to the beauty and elegance of overall design of the product. Samsung 65MU7350 also comes with a smart view feature, through which visual content on mobile phones can be displayed on this product. With Smart View app, you can conveniently control every feature of the LED from your cellphones.
Screen Size: 65-inch
Resolution: 3840 x 2160 (UHD)
Smart Features: Yes
Hdmi: Yes
Samsung 65 Inch 65MU7350 LED TV Price in Pakistan
The prices are collected from the best online stores in Pakistan like Shopperspk.com - updated Jun 2021.
Price Changes
| | |
| --- | --- |
| Date | Lowest Price |
| Feb 2019 | Rs. 208,000 |
| Feb 2019 | Rs. 212,735 |
| Mar 2019 | Rs. 208,000 |
| Mar 2019 | Rs. 203,999 |
| Apr 2019 | Rs. 208,000 |
| Jul 2019 | Rs. 212,735 |
| Aug 2019 | Rs. 203,300 |
| Sep 2019 | Rs. 212,735 |
| Oct 2019 | Rs. 209,000 |
| Nov 2019 | Rs. 212,735 |
| Nov 2019 | Rs. 198,300 |
| Dec 2019 | Rs. 212,735 |
| Dec 2019 | Rs. 198,300 |
| Dec 2019 | Rs. 212,735 |
| Dec 2019 | Rs. 198,300 |
| Jan 2020 | Rs. 197,990 |
| Jan 2020 | Rs. 212,735 |
| Jan 2020 | Rs. 197,990 |
| Apr 2020 | Rs. 185,000 |
| Apr 2020 | Rs. 185,999 |
| Jul 2020 | Rs. 230,000 |
| Aug 2020 | Rs. 185,999 |
| Aug 2020 | Rs. 186,999 |
| Aug 2020 | Rs. 230,000 |
| Aug 2020 | Rs. 186,999 |
| Sep 2020 | Rs. 216,999 |
| Oct 2020 | Rs. 186,999 |
| Nov 2020 | Rs. 187,999 |
| Dec 2020 | Rs. 230,000 |
| Mar 2021 | Rs. 188,999 |
| Apr 2021 | Rs. 230,000 |
| Apr 2021 | Rs. 188,999 |
| Apr 2021 | Rs. 230,000 |
| Apr 2021 | Rs. 188,999 |
| Jun 2021 | Rs. 230,000 |
| Jun 2021 | Rs. 230,000 |
Samsung 65 Inch 65MU7350 LED TV Specs
General
| | |
| --- | --- |
| Screen Size | 65-inch |
| Resolution | 3840 x 2160 (4K) |
| Smart Features | Yes |
| Built-in Woofer | No |
| Hdr | Yes |
| Curved Screen | Yes |
| Usb | Yes |
| Hdmi | Yes |
| Bluetooth | No |