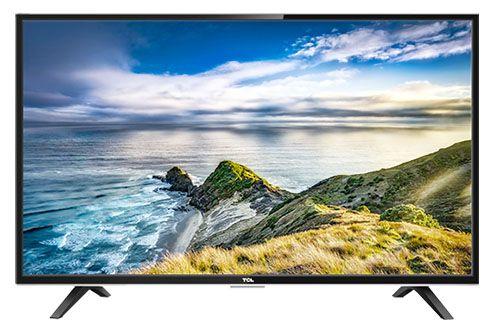 TCL 32 Inch Led Tv D310 Price
The Lowest price of TCL 32 Inch Led Tv D310 in Pakistan is Rs. 37,999, and the estimated average price is Rs. 42,649. Previously the price was Rs. 37,049 in November, approximately a 2% increase. Latest Dec 2023 price from tracked on major eCommerce stores all across Pakistan.

TCL LED TV prices have gone up 2% in the last 30 days. TCL 32 Inch Led Tv D310 is available at very limited stores online.
Screen Size: 32-inch
Resolution: 1366 x 768 (HD)
Smart Features: No
Hdmi: Yes
D310 is a basic, non-smart, entry-level LED TV from TCL which comes with features of HD resolution, 32 inches display, and USB & HDMI connections. Natural Light Engine in this LED TV provides the brightest and highest contrast level to ensure true color reproduction. Turbo Sound enhances your entertainment experience and the USB & HDMI connections allow you to share your favorite data from different technologies and systems and display on your TV. Although it is not a smart TV, it is a good choice for the people who are on a budget.
TCL 32 Inch Led Tv D310 Price in Pakistan
The prices are collected from the best online stores in Pakistan like Bnwcollections.com, Daraz.pk, Symbios - updated Dec 2023.
Price Changes
| | |
| --- | --- |
| Date | Lowest Price |
| Nov 2020 | Rs. 21,400 |
| Nov 2020 | Rs. 21,490 |
| Jun 2021 | Rs. 28,900 |
| Sep 2021 | Rs. 29,500 |
| Sep 2021 | Rs. 31,499 |
| Sep 2021 | Rs. 29,999 |
| Sep 2021 | Rs. 30,499 |
| Dec 2021 | Rs. 29,999 |
| Dec 2021 | Rs. 29,500 |
| Jan 2022 | Rs. 28,999 |
| Feb 2022 | Rs. 29,999 |
| Feb 2022 | Rs. 28,999 |
| Mar 2022 | Rs. 29,999 |
| Mar 2022 | Rs. 28,999 |
| Apr 2022 | Rs. 29,999 |
| Apr 2022 | Rs. 28,999 |
| May 2022 | Rs. 29,999 |
| May 2022 | Rs. 30,499 |
| May 2022 | Rs. 29,999 |
| May 2022 | Rs. 27,999 |
| Jun 2022 | Rs. 26,999 |
| Jun 2022 | Rs. 27,999 |
| Aug 2022 | Rs. 27,900 |
| Aug 2022 | Rs. 29,999 |
| Sep 2022 | Rs. 27,999 |
| Sep 2022 | Rs. 27,159 |
| Oct 2022 | Rs. 30,499 |
| Oct 2022 | Rs. 26,999 |
| Oct 2022 | Rs. 29,999 |
| Oct 2022 | Rs. 27,999 |
| Nov 2022 | Rs. 28,886 |
| Dec 2022 | Rs. 28,500 |
| Dec 2022 | Rs. 28,886 |
| Mar 2023 | Rs. 32,096 |
| Mar 2023 | Rs. 31,950 |
| Jul 2023 | Rs. 38,990 |
| Aug 2023 | Rs. 38,609 |
| Aug 2023 | Rs. 38,999 |
| Sep 2023 | Rs. 38,990 |
| Sep 2023 | Rs. 38,999 |
| Sep 2023 | Rs. 38,998 |
| Sep 2023 | Rs. 39,599 |
| Sep 2023 | Rs. 38,999 |
| Sep 2023 | Rs. 39,599 |
| Oct 2023 | Rs. 38,990 |
| Oct 2023 | Rs. 37,999 |
| Nov 2023 | Rs. 38,990 |
| Nov 2023 | Rs. 37,999 |
| Nov 2023 | Rs. 37,049 |
| Nov 2023 | Rs. 37,999 |
| Dec 2023 | Rs. 37,999 |
TCL 32 Inch Led Tv D310 Specs
General
| | |
| --- | --- |
| Screen Size | 32-inch |
| Resolution | 1366x768 (HD) |
| Smart Features | No |
| Built-in Woofer | No |
| Hdr | No |
| Usb | Yes |
| Hdmi | Yes |
| Bluetooth | No |
| Curved Screen | No |