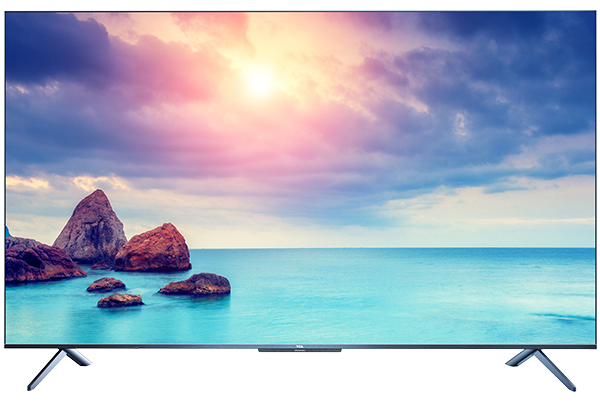 The Lowest price of TCL 65C716 LED TV in Pakistan is Rs. 181,600, and the estimated average price is Rs. 182,050. Previously the price was Rs. 147,208 in July, approximately a 18% increase. Latest Aug 2022 price from tracked on major eCommerce stores all across Pakistan.

TCL LED TV prices have gone up 1% in the last 30 days. TCL 65C716 LED TV is available at very limited stores online.
Screen Size: 65-Inch
Resolution: 3840 x 2160 (UHD)
Smart Features: Yes
Hdmi: Yes
65C716 LED TV is an LED TV from TCL that comes equipped with a Quantum Dot display to give you the finest image quality, 4 microphone receivers for exceptional reception and hence voice control of your content, 4K resolution to give stunning details to whatever you are watching, Dramatic Dolby Vision to boost brightness level and to enhance the appearance of Dolby exclusive content, HDR 10+ for a richer and more immersive experience, IPA engine to make the picture more layered and Micro Dimming to ensure a pleasing viewing experience with great contrast especially in dark. Dolby Atmos Audio in your TCL LED TV provides 3D sound for a cinematic sound experience. Another exclusive feature of your TCL LED TV is Magiconnect. You can now control your TV with your phone; take a screenshot of your favorite TV program and share it on social media and cast your favorite movies on the big screen of your TV. With AI-in, you can access your day's upcoming events and check traffic information. Enjoy the largest TV channel in the world i.e. Netflix with 4K UHD HDR quality on your own TCL LED TV. Moreover, with YouTube, you can watch your favorite shows, movies, entertainment programs, news, and much more on your TV with the stunning 4K resolution.
TCL 65C716 LED TV Price in Pakistan
The prices are collected from the best online stores in Pakistan like iShopping.pk, Buhatala.com - updated Aug 2022.
Price Changes
| | |
| --- | --- |
| Date | Lowest Price |
| Jul 2021 | Rs. 179,400 |
| Jul 2021 | Rs. 177,999 |
| Jul 2021 | Rs. 179,400 |
| Jul 2021 | Rs. 177,999 |
| Aug 2021 | Rs. 179,400 |
| Aug 2021 | Rs. 179,350 |
| Aug 2021 | Rs. 175,000 |
| Aug 2021 | Rs. 178,583 |
| Aug 2021 | Rs. 175,000 |
| Sep 2021 | Rs. 174,999 |
| Sep 2021 | Rs. 178,900 |
| Oct 2021 | Rs. 179,900 |
| Oct 2021 | Rs. 178,900 |
| Oct 2021 | Rs. 179,900 |
| Oct 2021 | Rs. 177,900 |
| Nov 2021 | Rs. 179,900 |
| Nov 2021 | Rs. 182,500 |
| Jul 2022 | Rs. 147,208 |
| Jul 2022 | Rs. 181,600 |
| Aug 2022 | Rs. 181,600 |
TCL 65C716 LED TV Specs
General
| | |
| --- | --- |
| Screen Size | 65-Inch |
| Resolution | 3840 x 2160 (UHD) |
| Smart Features | Yes |
| Built-in Woofer | No |
| Hdr | Yes |
| Usb | Yes |
| Hdmi | Yes |
| Bluetooth | Yes |
| Curved Screen | No |