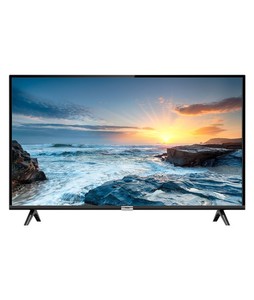 TCL L32S6500 LED TV Price
The Lowest price of TCL L32S6500 LED TV in Pakistan is Rs. 36,500, and the estimated average price is Rs. 38,963. Previously the price was Rs. 36,499 in May, approximately a 1% increase. Latest Jun 2021 price from tracked on major eCommerce stores all across Pakistan.

TCL LED TV prices have gone down 3% in the last 30 days. TCL L32S6500 LED TV is available at very limited stores online.
The L32S6500 LED TV from TCL is a part of its elusive S6500 Zalmi TV series. This 32-inch LED TV features a range of smart features including AI-embedded technology and Android TV OS. The FHD display is impressive for the price range with vibrant colors and good contrast. At this price range, the TCL L32S6500 is one of the best all-round LED TVs available with a FHD resolution, HDR support, IPQ Engine, Google Assistant, and Smart TV functionality.
Screen Size: 32-Inch
Resolution: 1920 x 1080 (FHD)
Smart Features: Yes
Hdmi: Yes
TCL L32S6500 LED TV Price in Pakistan
The prices are collected from the best online stores in Pakistan like iShopping.pk, Daraz.pk - updated Jun 2021.
Price Changes
| | |
| --- | --- |
| Date | Lowest Price |
| Jul 2019 | Rs. 29,499 |
| Jul 2019 | Rs. 29,248 |
| Apr 2020 | Rs. 31,800 |
| Apr 2020 | Rs. 29,248 |
| May 2020 | Rs. 33,999 |
| May 2020 | Rs. 29,248 |
| Jun 2020 | Rs. 32,990 |
| Jun 2020 | Rs. 29,248 |
| Jun 2020 | Rs. 32,990 |
| Jun 2020 | Rs. 33,999 |
| Jun 2020 | Rs. 29,248 |
| Aug 2020 | Rs. 32,970 |
| Aug 2020 | Rs. 29,248 |
| Aug 2020 | Rs. 31,990 |
| Aug 2020 | Rs. 29,248 |
| Jan 2021 | Rs. 22,990 |
| Jan 2021 | Rs. 29,248 |
| Feb 2021 | Rs. 32,990 |
| Feb 2021 | Rs. 29,248 |
| Mar 2021 | Rs. 32,990 |
| Mar 2021 | Rs. 29,248 |
| Apr 2021 | Rs. 35,990 |
| Apr 2021 | Rs. 35,999 |
| Apr 2021 | Rs. 34,999 |
| May 2021 | Rs. 36,500 |
| May 2021 | Rs. 36,499 |
| May 2021 | Rs. 36,500 |
| Jun 2021 | Rs. 36,500 |
TCL L32S6500 LED TV Specs
General
| | |
| --- | --- |
| Screen Size | 32-Inch |
| Resolution | 1920x1080 (Fhd) |
| Smart Features | Yes |
| Built-in Woofer | No |
| Hdr | No |
| Usb | Yes |
| Hdmi | Yes |
| Bluetooth | No |
| Curved Screen | No |