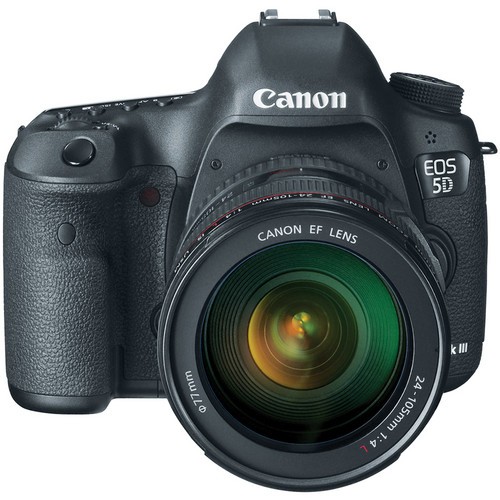 Canon EOS 5D Mark III Price
The Lowest price of Canon EOS 5D Mark III in Pakistan is Rs. 326,900, and the estimated average price is Rs. 326,900. Previously the price was Rs. 307,286 in August, approximately a 6% increase. Latest Dec 2023 price from tracked on major eCommerce stores all across Pakistan.

Canon DSLR prices have gone down 1% in the last 30 days. Canon EOS 5D Mark III is available at very limited stores online.
Brand: Canon
Lens Mount: Canon EF mount
Image Sensor Size: 36 mm x 24 mm
Image Sensor Type: CMOS
Megapixels: 22MP
The EOS 5D Mark IV DSLR is a flagship device by Canon which takes sharp 22 MP photos and shoots FHD cinematic videos. It has a relatively large, 36 x 24 mm CMOS sensor for max control and has a Canon EF mount for the lens. It takes amazing low-light photos with ISO 100-25600 (with H2: 102400) and has a continuous shooting speed of 6 fps. It has DIGIC 5+ image processing, dual card slots, HDR and much more.
Canon EOS 5D Mark III Price in Pakistan
The prices are collected from the best online stores in Pakistan like Daraz.pk - updated Dec 2023.
Price Changes
| | |
| --- | --- |
| Date | Lowest Price |
| Mar 2020 | Rs. 250,000 |
| May 2020 | Rs. 251,449 |
| Jun 2020 | Rs. 255,500 |
| Jun 2020 | Rs. 262,000 |
| Jun 2020 | Rs. 251,449 |
| Jul 2020 | Rs. 249,900 |
| Oct 2020 | Rs. 248,000 |
| Jan 2021 | Rs. 251,449 |
| Feb 2021 | Rs. 252,999 |
| Feb 2021 | Rs. 251,449 |
| Feb 2021 | Rs. 252,999 |
| Mar 2021 | Rs. 251,449 |
| Jun 2021 | Rs. 270,549 |
| Jun 2021 | Rs. 251,449 |
| Aug 2021 | Rs. 304,449 |
| Aug 2021 | Rs. 270,549 |
| Aug 2021 | Rs. 251,449 |
| Oct 2021 | Rs. 270,549 |
| Nov 2021 | Rs. 251,449 |
| Nov 2021 | Rs. 304,449 |
| Nov 2021 | Rs. 270,549 |
| Nov 2021 | Rs. 251,449 |
| Feb 2022 | Rs. 270,549 |
| Feb 2022 | Rs. 251,449 |
| Jun 2022 | Rs. 270,549 |
| Jun 2022 | Rs. 251,449 |
| Jul 2022 | Rs. 270,549 |
| Jul 2022 | Rs. 251,449 |
| Jan 2023 | Rs. 299,900 |
| Jan 2023 | Rs. 270,549 |
| Jan 2023 | Rs. 251,449 |
| Mar 2023 | Rs. 299,900 |
| Mar 2023 | Rs. 270,549 |
| Mar 2023 | Rs. 251,449 |
| May 2023 | Rs. 326,900 |
| Aug 2023 | Rs. 307,286 |
| Aug 2023 | Rs. 326,900 |
| Dec 2023 | Rs. 326,900 |