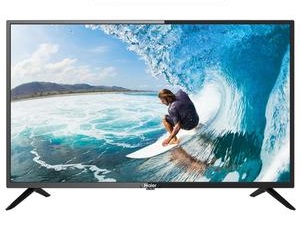 Haier LE43B9200M LED TV Price
The Lowest price of Haier LE43B9200M LED TV in Pakistan is Rs. 40,699, and the estimated average price is Rs. 40,699. Previously the price was Rs. 44,999 in January, approximately a 11% decrease. Latest Jun 2021 price from tracked on major eCommerce stores all across Pakistan.
The Haier LE43B9200M is a lower mid-range 43-inch LED TV that is equipped with key features such as a FHD resolution display, USB support, HDMI support, and Dolby-enhanced sound. The image quality is excellent with clear colors and details for all videos of up to 1080p. Even though it is a non-smart LED TV, the Haier LE43B9200M is a worthy choice to consider in this price bracket.
Screen Size: 43-Inch
Resolution: 1920 x 1080 (FHD)
Smart Features: No
Hdmi: Yes
Haier LE43B9200M LED TV Price in Pakistan
The prices are collected from the best online stores in Pakistan like Eitimad.com - updated Jun 2021.
Price Changes
| | |
| --- | --- |
| Date | Lowest Price |
| Jul 2019 | Rs. 36,999 |
| Jul 2019 | Rs. 35,999 |
| Jul 2019 | Rs. 36,999 |
| Sep 2019 | Rs. 39,999 |
| Sep 2019 | Rs. 36,999 |
| Sep 2019 | Rs. 39,999 |
| Oct 2019 | Rs. 39,500 |
| Oct 2019 | Rs. 39,999 |
| Nov 2019 | Rs. 39,500 |
| Jan 2020 | Rs. 39,499 |
| Jan 2020 | Rs. 39,999 |
| Jan 2020 | Rs. 40,699 |
| Feb 2020 | Rs. 39,999 |
| Mar 2020 | Rs. 40,699 |
| Mar 2020 | Rs. 37,999 |
| May 2020 | Rs. 40,699 |
| Jun 2020 | Rs. 41,999 |
| Jun 2020 | Rs. 40,699 |
| Jun 2020 | Rs. 39,283 |
| Nov 2020 | Rs. 40,699 |
| Nov 2020 | Rs. 44,999 |
| Nov 2020 | Rs. 40,699 |
| Jan 2021 | Rs. 44,999 |
| Jan 2021 | Rs. 40,699 |
| Jun 2021 | Rs. 40,699 |
Haier LE43B9200M LED TV Specs
General
| | |
| --- | --- |
| Screen Size | 43-Inch |
| Resolution | 1920x1080 (Fhd) |
| Smart Features | No |
| Built-in Woofer | No |
| Hdr | No |
| Usb | Yes |
| Hdmi | Yes |
| Bluetooth | No |
| Curved Screen | No |