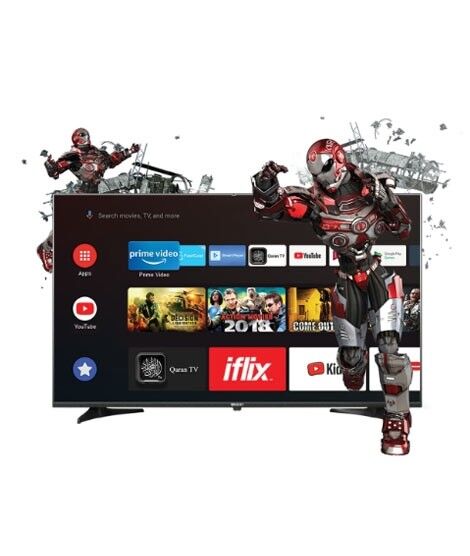 Orient Action 32" Android LED TV Price
The Lowest price of Orient Action 32" Android LED TV in Pakistan is Rs. 52,999, and the estimated average price is Rs. 52,999. Previously the price was Rs. 59,999 in November, approximately a 14% decrease. Latest Dec 2023 price from tracked on major eCommerce stores all across Pakistan.

Orient LED TV prices have gone up 11% in the last 30 days. Orient Action 32" Android LED TV is available at very limited stores online.
Screen Size: 32-Inch
Resolution: 1366 x 768 (HD)
Smart Features: Yes
Hdmi: Yes
This LED by Orient belongs to its action series. It has many distinct features that provide its users with a theatrical experience from the comfort of their homes. These features include a quad-core processor which enhances the gaming experience as well as the smoothness, built-in Netflix which brings a huge number of movies, series, and documentaries to your screen, and built-in amazon prime which again helps to fulfill the entertainment quotient. It is highly recommended for gamers as it has an uninterruptable high-end gaming feature with 2 GB RAM and 8 GB ROM. Other features include Fast Cast, built-in Chromecast, digital television, and full-screen display.
Orient Action 32" Android LED TV Price in Pakistan
The prices are collected from the best online stores in Pakistan like Daraz.pk - updated Dec 2023.
Price Changes
| | |
| --- | --- |
| Date | Lowest Price |
| May 2022 | Rs. 39,499 |
| May 2022 | Rs. 40,500 |
| May 2022 | Rs. 39,499 |
| May 2022 | Rs. 40,500 |
| May 2022 | Rs. 39,499 |
| May 2022 | Rs. 40,500 |
| Jun 2022 | Rs. 44,999 |
| Jun 2022 | Rs. 42,499 |
| Jun 2022 | Rs. 44,999 |
| Jun 2022 | Rs. 41,199 |
| Jun 2022 | Rs. 44,999 |
| Jun 2022 | Rs. 41,199 |
| Jun 2022 | Rs. 43,000 |
| Jun 2022 | Rs. 41,199 |
| Jun 2022 | Rs. 43,000 |
| Jul 2022 | Rs. 41,199 |
| Aug 2022 | Rs. 42,999 |
| Aug 2022 | Rs. 41,199 |
| Aug 2022 | Rs. 42,999 |
| Aug 2022 | Rs. 41,199 |
| Aug 2022 | Rs. 42,999 |
| Sep 2022 | Rs. 41,199 |
| Sep 2022 | Rs. 42,999 |
| Sep 2022 | Rs. 35,999 |
| Sep 2022 | Rs. 41,199 |
| Sep 2022 | Rs. 42,569 |
| Sep 2022 | Rs. 42,999 |
| Oct 2022 | Rs. 39,999 |
| Nov 2022 | Rs. 40,500 |
| Nov 2022 | Rs. 37,999 |
| Nov 2022 | Rs. 37,000 |
| Mar 2023 | Rs. 44,830 |
| Mar 2023 | Rs. 31,999 |
| Mar 2023 | Rs. 44,830 |
| Mar 2023 | Rs. 52,469 |
| Mar 2023 | Rs. 53,999 |
| Mar 2023 | Rs. 59,176 |
| Apr 2023 | Rs. 53,999 |
| Apr 2023 | Rs. 59,176 |
| Apr 2023 | Rs. 53,998 |
| Apr 2023 | Rs. 55,000 |
| May 2023 | Rs. 59,176 |
| May 2023 | Rs. 55,000 |
| Jun 2023 | Rs. 54,450 |
| Jul 2023 | Rs. 52,499 |
| Aug 2023 | Rs. 49,874 |
| Aug 2023 | Rs. 52,499 |
| Aug 2023 | Rs. 56,999 |
| Sep 2023 | Rs. 52,999 |
| Sep 2023 | Rs. 59,999 |
| Oct 2023 | Rs. 52,999 |
| Nov 2023 | Rs. 59,999 |
| Nov 2023 | Rs. 51,499 |
| Nov 2023 | Rs. 59,999 |
| Dec 2023 | Rs. 52,999 |
| Dec 2023 | Rs. 52,999 |
Orient Action 32" Android LED TV Specs
General
| | |
| --- | --- |
| Screen Size | 32-Inch |
| Resolution | 1366 x 768 (HD) |
| Smart Features | Yes |
| Built-in Woofer | Yes |
| Hdr | Yes |
| Usb | Yes |
| Hdmi | Yes |
| Bluetooth | Yes |
| Curved Screen | No |