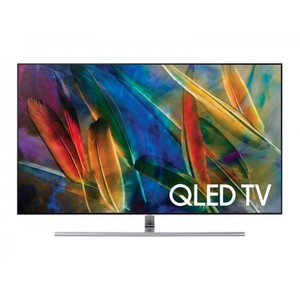 Samsung 55 Inch 55Q7F QLED TV Price
The Lowest price of Samsung 55 Inch 55Q7F QLED TV in Pakistan is Rs. 185,000, and the estimated average price is Rs. 222,541. Previously the price was Rs. 206,999 in June, approximately a 12% decrease. Latest Jun 2021 price from tracked on major eCommerce stores all across Pakistan.

Samsung LED TV prices have gone down 3% in the last 30 days. Samsung 55 Inch 55Q7F QLED TV is available at very limited stores online.
The Samsung 55Q7F is a member of Samsung's most premium line of LED TVs, the Samsung Q series. This 55-inch flat smart TV comes with Samsung's own 'Quantum LED' (QLED) technology that highlights even the most minute of details in your picture. With features such as 4K resolution, HDR 1500 technology, and Samsung Smart Hub, the Samsung 55Q7F has everything that you want in a LED TV. Despite being priced at a price much higher than that of traditional LED TVs, the 55Q7F justifies its price through the Q Processing Engine and spectacular viewing experience. Samsung has put in close attention to the design of this one as well since the LED TV features a zero gap wall-mount, a minimalistic 'invisible' connection, and a bezel-less 'boundless' design for an elegant overall look.
Screen Size: 55-inch
Resolution: 3840 x 2160 (UHD)
Smart Features: Yes
Hdmi: Yes
Samsung 55 Inch 55Q7F QLED TV Price in Pakistan
The prices are collected from the best online stores in Pakistan like Homeshopping.pk, Shopperspk.com, iShopping.pk - updated Jun 2021.
Price Changes
| | |
| --- | --- |
| Date | Lowest Price |
| Feb 2019 | Rs. 230,000 |
| Mar 2019 | Rs. 219,000 |
| Mar 2019 | Rs. 222,000 |
| Apr 2019 | Rs. 219,000 |
| Apr 2019 | Rs. 214,999 |
| May 2019 | Rs. 230,999 |
| May 2019 | Rs. 229,900 |
| Sep 2019 | Rs. 230,999 |
| Apr 2020 | Rs. 209,999 |
| May 2020 | Rs. 209,999 |
| May 2020 | Rs. 206,999 |
| Jan 2021 | Rs. 185,000 |
| Apr 2021 | Rs. 206,999 |
| Apr 2021 | Rs. 185,000 |
| Apr 2021 | Rs. 206,999 |
| Apr 2021 | Rs. 185,000 |
| Jun 2021 | Rs. 206,999 |
| Jun 2021 | Rs. 185,000 |
| Jun 2021 | Rs. 185,000 |
Samsung 55 Inch 55Q7F QLED TV Specs
General
| | |
| --- | --- |
| Screen Size | 55-inch |
| Resolution | 3840 x 2160 (4K) |
| Smart Features | Yes |
| Built-in Woofer | Yes |
| Hdr | Yes |
| Curved Screen | No |
| Usb | Yes |
| Hdmi | Yes |
| Bluetooth | Yes |