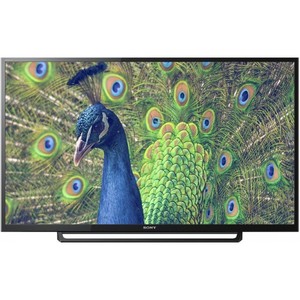 Sony 40 Inch 40R352E LED TV Price
The Lowest price of Sony 40 Inch 40R352E LED TV in Pakistan is Rs. 74,000, and the estimated average price is Rs. 74,000. Previously the price was Rs. 66,000 in February, approximately a 10% increase. Latest Mar 2023 price from tracked on major eCommerce stores all across Pakistan.

Sony LED TV prices have gone down 23% in the last 30 days. Sony 40 Inch 40R352E LED TV is available at very limited stores online.
Screen Size: 40-inch
Resolution: 1920 x 1080 (FHD)
Smart Features: No
Hdmi: Yes
The Sony 40R352E is a midrange LED that is focused on providing an all-round viewing experience. The beautiful, thin-bezel design is backed with the X-Protection Pro technology that protects the LED from dust and humidity. As for image quality, the X-Reality Engine on the Sony 40R352E delivers an excellent viewing experience with good colors, great contrast, and adequate brightness. The Sony 40R352E supports USB, HDMI, and smartphone connectivity with screen mirroring that enables you to play your favorite movies, TV shows, and games on the LED TV.
Sony 40 Inch 40R352E LED TV Price in Pakistan
The prices are collected from the best online stores in Pakistan like Aysonline.pk - updated Mar 2023.
Price Changes
| | |
| --- | --- |
| Date | Lowest Price |
| Feb 2019 | Rs. 46,300 |
| Jul 2019 | Rs. 49,999 |
| Nov 2019 | Rs. 54,999 |
| Jan 2020 | Rs. 49,500 |
| Apr 2020 | Rs. 48,999 |
| Jun 2020 | Rs. 49,500 |
| Jul 2020 | Rs. 45,650 |
| Jul 2020 | Rs. 49,500 |
| Jul 2020 | Rs. 45,650 |
| Jul 2020 | Rs. 47,999 |
| Aug 2020 | Rs. 45,650 |
| Aug 2020 | Rs. 47,999 |
| Sep 2020 | Rs. 49,500 |
| Nov 2020 | Rs. 49,999 |
| Apr 2021 | Rs. 57,249 |
| May 2021 | Rs. 64,349 |
| Jun 2021 | Rs. 54,999 |
| Jun 2021 | Rs. 64,349 |
| Jun 2021 | Rs. 54,999 |
| Jun 2021 | Rs. 64,999 |
| Jun 2021 | Rs. 64,349 |
| Aug 2021 | Rs. 70,900 |
| Aug 2021 | Rs. 64,349 |
| Aug 2021 | Rs. 60,000 |
| Sep 2021 | Rs. 64,349 |
| Oct 2021 | Rs. 68,000 |
| Oct 2021 | Rs. 64,349 |
| Oct 2021 | Rs. 68,000 |
| Oct 2021 | Rs. 49,500 |
| Dec 2021 | Rs. 64,349 |
| Jan 2022 | Rs. 62,100 |
| Feb 2022 | Rs. 61,999 |
| Aug 2022 | Rs. 64,999 |
| Feb 2023 | Rs. 66,000 |
| Mar 2023 | Rs. 74,000 |
| Mar 2023 | Rs. 74,000 |
Sony 40 Inch 40R352E LED TV Specs
General
| | |
| --- | --- |
| Screen Size | 40-inch |
| Resolution | 1920 X 1080 (Full Hd) |
| Smart Features | No |
| Built-in Woofer | No |
| Hdr | No |
| Curved Screen | No |
| Usb | Yes |
| Hdmi | Yes |
| Bluetooth | No |