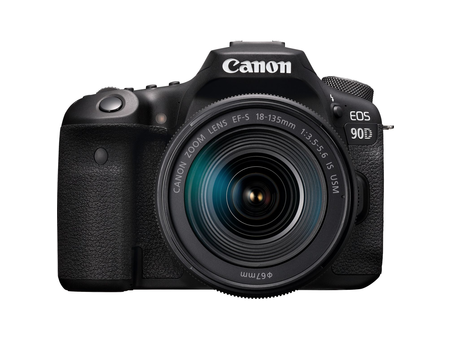 The Lowest price of Canon EOS 90D in Pakistan is Rs. 220,000, and the estimated average price is Rs. 307,533. Previously the price was Rs. 250,000 in September, approximately a 14% decrease. Latest Sep 2023 price from tracked on major eCommerce stores all across Pakistan.

Canon DSLR prices have gone up 3% in the last 30 days. Canon EOS 90D is widely available online.
Brand: Canon
Lens Mount: Canon EF/EF-S
Image Sensor Size: 22.3mm x 14.8mm
Image Sensor Type: CMOS
Megapixels: 32.5MP
The Canon EOS 5DS is a flagship DSLR camera which takes brilliant 32.5 MP photos and has 220000 pixel RGB+IR metering sensor for focusing fast moving objects. It can shoot stunning 4K UHD videos and has a high Continuous Shooting speed of 10 fps. It has a 22.3 x 14.8 mm CMOS sensor and has a Canon EF lens mount. It is capable of taking great low-light shots with ISO 100-6400 (expandable upto 25600). It is equipped with powerful Dual DIGIC 8 image processing and has much more to offer.
Canon EOS 90D Price in Pakistan
The prices are collected from the best online stores in Pakistan like Daraz.pk, Bnwcollections.com, Mega.pk, Paklap.pk - updated Sep 2023.
Price Changes
| | |
| --- | --- |
| Date | Lowest Price |
| Feb 2020 | Rs. 228,000 |
| Feb 2020 | Rs. 202,999 |
| Feb 2020 | Rs. 175,900 |
| Mar 2020 | Rs. 170,309 |
| Jun 2020 | Rs. 174,999 |
| Jun 2020 | Rs. 170,309 |
| Jun 2020 | Rs. 174,999 |
| Jun 2020 | Rs. 170,309 |
| Aug 2020 | Rs. 174,999 |
| Aug 2020 | Rs. 170,309 |
| Aug 2020 | Rs. 174,999 |
| Aug 2020 | Rs. 170,309 |
| Sep 2020 | Rs. 174,999 |
| Sep 2020 | Rs. 179,899 |
| Feb 2021 | Rs. 174,499 |
| Mar 2021 | Rs. 174,999 |
| Mar 2021 | Rs. 173,999 |
| Mar 2021 | Rs. 174,999 |
| Apr 2021 | Rs. 176,499 |
| Apr 2021 | Rs. 173,000 |
| May 2021 | Rs. 175,000 |
| Jun 2021 | Rs. 142,000 |
| Jun 2021 | Rs. 175,000 |
| Aug 2021 | Rs. 142,000 |
| Aug 2021 | Rs. 175,000 |
| Aug 2021 | Rs. 173,999 |
| Aug 2021 | Rs. 175,000 |
| Aug 2021 | Rs. 173,999 |
| Oct 2021 | Rs. 175,000 |
| Oct 2021 | Rs. 142,000 |
| Oct 2021 | Rs. 175,000 |
| Nov 2021 | Rs. 142,000 |
| Nov 2021 | Rs. 175,000 |
| Nov 2021 | Rs. 142,000 |
| Nov 2021 | Rs. 175,000 |
| Nov 2021 | Rs. 142,000 |
| Nov 2021 | Rs. 175,000 |
| Nov 2022 | Rs. 175,000 |
| Apr 2023 | Rs. 175,000 |
| Jun 2023 | Rs. 250,000 |
| Aug 2023 | Rs. 151,500 |
| Sep 2023 | Rs. 199,000 |
| Sep 2023 | Rs. 250,000 |
| Sep 2023 | Rs. 220,000 |
| Sep 2023 | Rs. 250,000 |
| Sep 2023 | Rs. 220,000 |
| Sep 2023 | Rs. 220,000 |