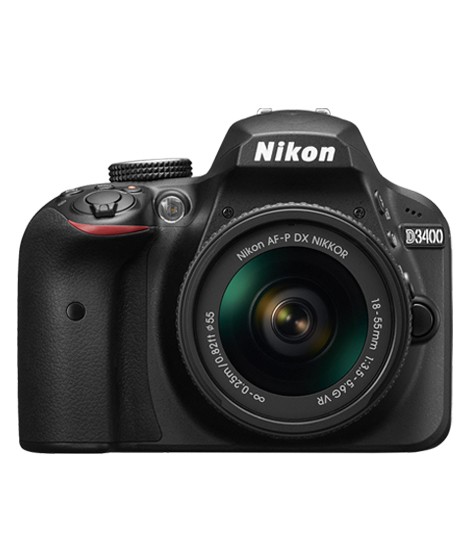 The Lowest price of Nikon D3400 in Pakistan is Rs. 57,000, and the estimated average price is Rs. 58,967. Previously the price was Rs. 52,799 in November, approximately a 7% increase. Latest Dec 2023 price from tracked on major eCommerce stores all across Pakistan.

Nikon DSLR prices have gone down 69% in the last 30 days. Nikon D3400 is available at very limited stores online.
Brand: Nikon
Lens mount: Nikon F bayonet mount
Image Sensor Format: DX
Image Sensor Type: CMOS
Megapixels: 24MP
The Nikon D3400 produces images of whopping 24 MPs with max resolution of 6000x4000. It's 23.5 x 15.6 mm sized CMOS sensor also has a resolution of 6045 x 4003. It also has a variety of other options including 5fps Continuous Shooting speed at full resolution, Full HD video recording at 60fps and much more.
Nikon D3400 Price in Pakistan
The prices are collected from the best online stores in Pakistan like Paklap.pk, Daraz.pk - updated Dec 2023.
Price Changes
| | |
| --- | --- |
| Date | Lowest Price |
| Jan 2020 | Rs. 44,999 |
| Feb 2020 | Rs. 29,500 |
| Feb 2020 | Rs. 44,999 |
| Apr 2020 | Rs. 48,999 |
| Apr 2020 | Rs. 49,999 |
| May 2020 | Rs. 49,999 |
| Jun 2020 | Rs. 49,500 |
| Feb 2021 | Rs. 46,499 |
| Feb 2021 | Rs. 49,500 |
| Feb 2021 | Rs. 46,499 |
| Mar 2021 | Rs. 49,500 |
| Mar 2021 | Rs. 46,499 |
| Mar 2021 | Rs. 49,500 |
| Mar 2021 | Rs. 46,499 |
| Mar 2021 | Rs. 49,500 |
| Mar 2021 | Rs. 46,499 |
| Mar 2021 | Rs. 49,500 |
| May 2022 | Rs. 49,000 |
| May 2022 | Rs. 49,500 |
| Aug 2022 | Rs. 46,999 |
| Aug 2022 | Rs. 44,999 |
| Sep 2022 | Rs. 49,500 |
| Nov 2022 | Rs. 49,000 |
| Jan 2023 | Rs. 49,500 |
| Jan 2023 | Rs. 49,000 |
| Feb 2023 | Rs. 49,500 |
| Feb 2023 | Rs. 49,000 |
| Feb 2023 | Rs. 49,500 |
| Mar 2023 | Rs. 46,000 |
| Mar 2023 | Rs. 49,500 |
| Apr 2023 | Rs. 59,749 |
| Apr 2023 | Rs. 49,500 |
| Jun 2023 | Rs. 59,900 |
| Jul 2023 | Rs. 58,103 |
| Jul 2023 | Rs. 59,900 |
| Jul 2023 | Rs. 49,500 |
| Aug 2023 | Rs. 48,015 |
| Aug 2023 | Rs. 49,500 |
| Aug 2023 | Rs. 59,900 |
| Sep 2023 | Rs. 54,999 |
| Sep 2023 | Rs. 57,000 |
| Sep 2023 | Rs. 54,999 |
| Oct 2023 | Rs. 53,999 |
| Nov 2023 | Rs. 52,919 |
| Nov 2023 | Rs. 52,799 |
| Nov 2023 | Rs. 57,000 |
| Dec 2023 | Rs. 57,000 |