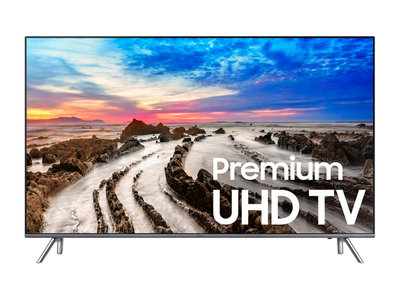 Samsung 55 Inch 55MU8000 LED TV
The Samsung 55MU8000 is a Series 8 LED TV from Samsung that features the most high-end features that the company has to offer. This flat UHD LED TV is equipped with a range of useful features and functions such as the Samsung Smart Hub, Smart View, Peak Illuminator, and Crystal Clear display technology. The HDR1000 further adds to the quality of the display enabling it to reproduce images in a life-like and flawless manner. The image quality is breathtaking with the Samsung 55MU8000 and it has been designed for minimalism. The Clean Cable solution coupled with Samsung One Connect enables you to reduce the clutter of wires around the LED so that you can sit back and enjoy a comfortable viewing experience on the Samsung 55MU8000.
Screen Size: 55-inch
Resolution: 3840 x 2160 (UHD)
Smart Features: Yes
Hdmi: Yes
Price in Pakistan
The Lowest price of Samsung 55 Inch 55MU8000 LED TV in Pakistan is Rs. 151,999, and estimated average price is Rs. 151,999.
Samsung 55 Inch 55MU8000 LED TV Price in Pakistan
The prices are collected from the best online stores in Pakistan like Homeshopping.pk - updated Sep 2020.
Price Changes
| | |
| --- | --- |
| Date | Lowest Price |
| Feb 2019 | Rs. 148,000 |
| Aug 2019 | Rs. 163,000 |
| Oct 2019 | Rs. 170,500 |
| Nov 2019 | Rs. 199,999 |
| Nov 2019 | Rs. 165,990 |
| Dec 2019 | Rs. 199,999 |
| Dec 2019 | Rs. 165,990 |
| Dec 2019 | Rs. 199,999 |
| Dec 2019 | Rs. 165,990 |
| Jan 2020 | Rs. 199,999 |
| Jan 2020 | Rs. 165,990 |
| Apr 2020 | Rs. 150,000 |
| Apr 2020 | Rs. 150,999 |
| Aug 2020 | Rs. 151,999 |
| Sep 2020 | Rs. 151,999 |
Samsung 55 Inch 55MU8000 LED TV Specs
General
| | |
| --- | --- |
| Screen Size | 55-inch |
| Resolution | 3840 x 2160 (4K) |
| Smart Features | Yes |
| Built-in Woofer | Yes |
| Hdr | Yes |
| Curved Screen | No |
| Usb | Yes |
| Hdmi | Yes |
| Bluetooth | Yes |