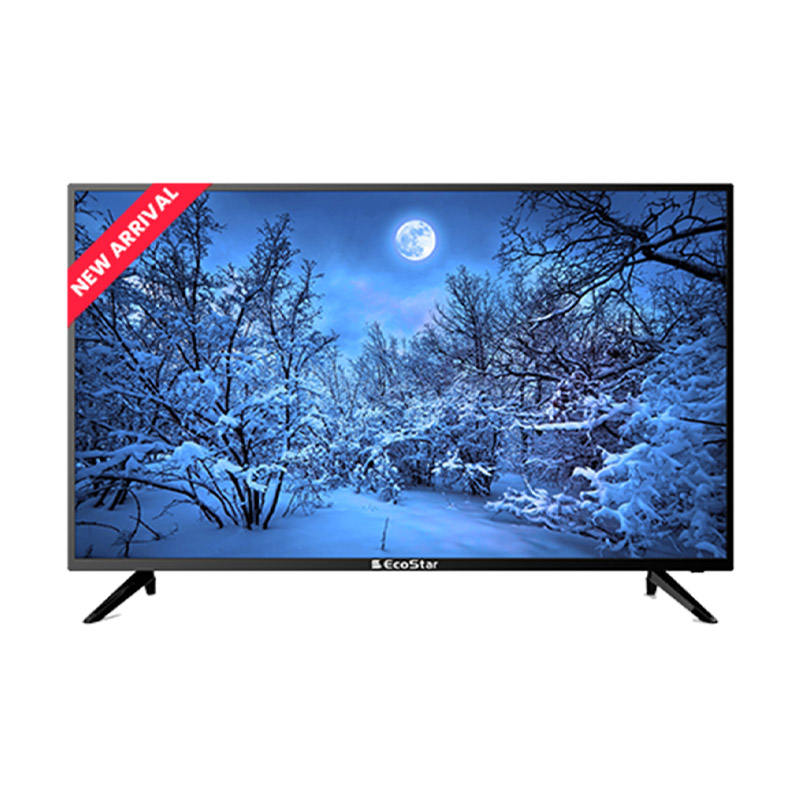 EcoStar 32" CX-32U573 LED TV Price
The Lowest price of EcoStar 32" CX-32U573 LED TV in Pakistan is Rs. 37,999, and the estimated average price is Rs. 49,724. Previously the price was Rs. 40,099 in June, approximately a 6% decrease. Latest Sep 2023 price from tracked on major eCommerce stores all across Pakistan.

EcoStar LED TV prices have gone down 1% in the last 30 days. EcoStar 32" CX-32U573 LED TV is available at very limited stores online.
Screen Size: 32-Inch
Resolution: 1366 x 768
Smart Features: Yes
Hdmi: Yes
This 32-inch LED by EcoStar has many features that work together to make it a cost-effective purchase. These features include 1366 x 768 of screen resolution, USB connectivity for audio, video and images, HDMI x2 and programmable sleep timer. Along with these, motion processing, image refinery as well as program memory of 199 channels and surround sound. With wide view angle and digital noise reduction, it provides it viewers with cinematic experience from the comfort of their homes. Moreover, it has power supply of AC 100-200 V. This LED comes with a 2-year warranty which enhances its reliability.
EcoStar 32" CX-32U573 LED TV Price in Pakistan
The prices are collected from the best online stores in Pakistan like Daraz.pk - updated Sep 2023.
Price Changes
| | |
| --- | --- |
| Date | Lowest Price |
| Aug 2022 | Rs. 26,899 |
| Sep 2022 | Rs. 26,630 |
| Sep 2022 | Rs. 26,899 |
| Oct 2022 | Rs. 27,999 |
| Oct 2022 | Rs. 26,899 |
| Oct 2022 | Rs. 25,000 |
| Oct 2022 | Rs. 25,499 |
| Nov 2022 | Rs. 26,899 |
| Nov 2022 | Rs. 27,499 |
| Nov 2022 | Rs. 27,999 |
| Dec 2022 | Rs. 27,499 |
| Dec 2022 | Rs. 27,059 |
| Dec 2022 | Rs. 27,499 |
| Jan 2023 | Rs. 27,999 |
| Feb 2023 | Rs. 29,999 |
| Feb 2023 | Rs. 31,000 |
| Mar 2023 | Rs. 35,639 |
| Mar 2023 | Rs. 35,999 |
| Mar 2023 | Rs. 39,000 |
| Apr 2023 | Rs. 35,999 |
| May 2023 | Rs. 37,999 |
| Jun 2023 | Rs. 40,099 |
| Jun 2023 | Rs. 35,900 |
| Jun 2023 | Rs. 38,509 |
| Jun 2023 | Rs. 40,099 |
| Jul 2023 | Rs. 37,999 |
| Sep 2023 | Rs. 37,999 |
EcoStar 32" CX-32U573 LED TV Specs
General
| | |
| --- | --- |
| Screen Size | 32-Inch |
| Resolution | 1366 x 768 |
| Smart Features | No |
| Built-in Woofer | No |
| Hdr | No |
| Usb | Yes |
| Hdmi | Yes |
| Bluetooth | No |
| Curved Screen | No |