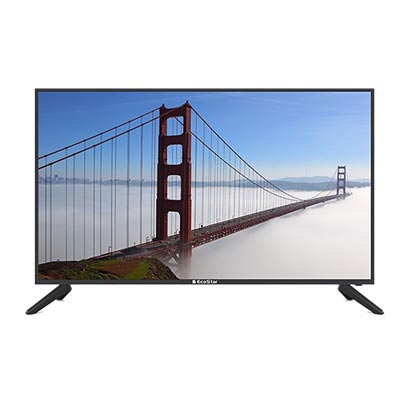 EcoStar 39" CX-39U573 LED TV Price
The Lowest price of EcoStar 39" CX-39U573 LED TV in Pakistan is Rs. 51,999, and the estimated average price is Rs. 54,499. Previously the price was Rs. 52,000 in November, approximately a 1% decrease. Latest Dec 2023 price from tracked on major eCommerce stores all across Pakistan.

EcoStar LED TV prices have gone up 2% in the last 30 days. EcoStar 39" CX-39U573 LED TV is widely available online.
Screen Size: 39-Inch
Resolution: 1366 x 768
Smart Features: No
Hdmi: Yes
This 39-inch LED TV by EcoStar has many distinct and unique features that work together to make it a worthwhile purchase for its users. These features include a high-quality screen resolution of 1366 x 768 that provides the users with a cinematic experience from the comfort of their homes. Other than this, it has USB connectivity for audio, video as well as images. Along with these, it also has the feature of HDMI input. With a programmable sleep timer, this LED has 30 KGs of weight. To enhance customers', trust in the product, it also comes with a brand warranty.
EcoStar 39" CX-39U573 LED TV Price in Pakistan
The prices are collected from the best online stores in Pakistan like Daraz.pk, Surmawala.pk, Telemart.pk - updated Dec 2023.
Price Changes
| | |
| --- | --- |
| Date | Lowest Price |
| Aug 2022 | Rs. 38,999 |
| Aug 2022 | Rs. 40,500 |
| Aug 2022 | Rs. 37,999 |
| Sep 2022 | Rs. 38,200 |
| Sep 2022 | Rs. 38,800 |
| Sep 2022 | Rs. 37,990 |
| Oct 2022 | Rs. 38,999 |
| Oct 2022 | Rs. 37,990 |
| Nov 2022 | Rs. 38,790 |
| Nov 2022 | Rs. 38,800 |
| Nov 2022 | Rs. 38,999 |
| Nov 2022 | Rs. 39,000 |
| Dec 2022 | Rs. 38,999 |
| Dec 2022 | Rs. 38,800 |
| Dec 2022 | Rs. 38,375 |
| Jan 2023 | Rs. 39,000 |
| Feb 2023 | Rs. 40,989 |
| Mar 2023 | Rs. 42,000 |
| Mar 2023 | Rs. 41,500 |
| Mar 2023 | Rs. 42,000 |
| Jun 2023 | Rs. 51,600 |
| Jun 2023 | Rs. 52,000 |
| Aug 2023 | Rs. 53,900 |
| Oct 2023 | Rs. 52,000 |
| Nov 2023 | Rs. 50,399 |
| Nov 2023 | Rs. 51,499 |
| Nov 2023 | Rs. 52,000 |
| Nov 2023 | Rs. 51,499 |
| Nov 2023 | Rs. 52,000 |
| Nov 2023 | Rs. 51,999 |
| Dec 2023 | Rs. 51,999 |
EcoStar 39" CX-39U573 LED TV Specs
General
| | |
| --- | --- |
| Screen Size | 39-Inch |
| Resolution | 1366 x 768 |
| Smart Features | No |
| Built-in Woofer | No |
| Hdr | No |
| Usb | Yes |
| Hdmi | Yes |
| Bluetooth | No |
| Curved Screen | No |