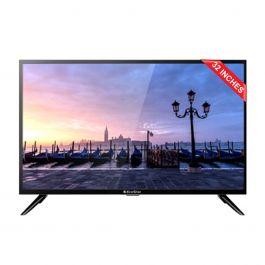 EcoStar 32" CX-32U575 LED TV Price
The Lowest price of EcoStar 32" CX-32U575 LED TV in Pakistan is Rs. 37,200, and the estimated average price is Rs. 39,550. Previously the price was Rs. 38,900 in April, approximately a 5% decrease. Latest Jun 2023 price from tracked on major eCommerce stores all across Pakistan.

EcoStar LED TV prices have gone down 8% in the last 30 days. EcoStar 32" CX-32U575 LED TV is available at very limited stores online.
Screen Size: 32-Inch
Resolution: 1366 x 768
Smart Features: No
Hdmi: Yes
This LED by EcoStar has many unique and distinct features that together make it a worthwhile purchase for its consumers. These features include a resolution of 1366 x 768, USB connectivity for audio, video & images, 2 HDMI input ports, PC- input for audio and video, motion processing, and an A-grade panel. Apart from these, it also has a program memory of 199 channels and power consumption of 55W. The optimum operating temperature for the LED is 5ᶛC ~ 40ᶛC and the humidity level is 10% ~ 85%. Along with all these features, to make it more reliable for its users, it has a 1-year manufacturer warranty.
EcoStar 32" CX-32U575 LED TV Price in Pakistan
The prices are collected from the best online stores in Pakistan like Aysonline.pk, Daraz.pk - updated Jun 2023.
Price Changes
| | |
| --- | --- |
| Date | Lowest Price |
| Aug 2022 | Rs. 29,990 |
| Aug 2022 | Rs. 28,300 |
| Oct 2022 | Rs. 27,200 |
| Oct 2022 | Rs. 27,999 |
| Nov 2022 | Rs. 26,900 |
| Nov 2022 | Rs. 27,999 |
| Dec 2022 | Rs. 26,900 |
| Jan 2023 | Rs. 27,400 |
| Jan 2023 | Rs. 27,999 |
| Feb 2023 | Rs. 29,800 |
| Feb 2023 | Rs. 30,500 |
| Mar 2023 | Rs. 38,800 |
| Mar 2023 | Rs. 34,000 |
| Mar 2023 | Rs. 38,800 |
| Apr 2023 | Rs. 34,000 |
| Apr 2023 | Rs. 36,900 |
| Apr 2023 | Rs. 38,900 |
| May 2023 | Rs. 37,200 |
| Jun 2023 | Rs. 37,200 |
EcoStar 32" CX-32U575 LED TV Specs
General
| | |
| --- | --- |
| Screen Size | 32-Inch |
| Resolution | 1366 x 768 |
| Smart Features | No |
| Built-in Woofer | No |
| Hdr | No |
| Usb | Yes |
| Hdmi | Yes |
| Bluetooth | No |
| Curved Screen | No |