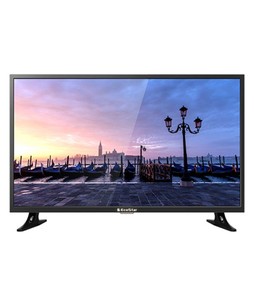 EcoStar 32 Inch 32U571 LED TV Price
The Lowest price of EcoStar 32 Inch 32U571 LED TV in Pakistan is Rs. 27,000, and the estimated average price is Rs. 33,915. Previously the price was Rs. 24,500 in February, approximately a 9% increase. Latest Aug 2022 price from tracked on major eCommerce stores all across Pakistan.

EcoStar LED TV prices have gone up 1% in the last 30 days. EcoStar 32 Inch 32U571 LED TV is available at very limited stores online.
Screen Size: 32-inch
Resolution: 1366 x 768 (HD)
Smart Features: No
Hdmi: Yes
EcoStar is a reputed name in the electronics industry in Pakistan, particularly because of its budget-friendly LED TVs. The EcoStar 32U571 is a budget LED TV that comes with HD resolution, HDR, and USB connectivity to provide you with an all-in-one package. The Sound Max Engine coupled with the RealColor Engine ensure that the picture quality is crisp, clear, and sharp with life-like audio playback. Overall, the picture quality is impressive and this is a worthy choice if you are looking for an affordable LED TV for your home or office. There is no FHD resolution on board, but there is only so much that you can ask from this price range.
EcoStar 32 Inch 32U571 LED TV Price in Pakistan
The prices are collected from the best online stores in Pakistan like Buhatala.com, iShopping.pk, Cartswing.com - updated Aug 2022.
Price Changes
| | |
| --- | --- |
| Date | Lowest Price |
| Feb 2019 | Rs. 20,312 |
| Feb 2019 | Rs. 20,500 |
| Mar 2019 | Rs. 19,999 |
| Mar 2019 | Rs. 20,000 |
| Mar 2019 | Rs. 19,499 |
| Apr 2019 | Rs. 20,000 |
| Apr 2019 | Rs. 19,995 |
| May 2019 | Rs. 19,900 |
| Jul 2019 | Rs. 19,499 |
| Aug 2019 | Rs. 19,799 |
| Oct 2019 | Rs. 20,399 |
| Oct 2019 | Rs. 20,099 |
| Oct 2019 | Rs. 19,999 |
| Oct 2019 | Rs. 19,899 |
| Nov 2019 | Rs. 19,799 |
| Nov 2019 | Rs. 19,749 |
| Nov 2019 | Rs. 19,499 |
| Nov 2019 | Rs. 19,799 |
| Nov 2019 | Rs. 19,499 |
| Dec 2019 | Rs. 19,495 |
| Jan 2020 | Rs. 19,277 |
| Feb 2020 | Rs. 18,999 |
| Feb 2020 | Rs. 19,277 |
| Feb 2020 | Rs. 18,989 |
| Mar 2020 | Rs. 18,749 |
| Apr 2020 | Rs. 18,989 |
| May 2020 | Rs. 18,499 |
| May 2020 | Rs. 18,989 |
| Jun 2020 | Rs. 19,100 |
| Jun 2020 | Rs. 18,989 |
| Jun 2020 | Rs. 18,499 |
| Jun 2020 | Rs. 18,989 |
| Aug 2020 | Rs. 19,100 |
| Aug 2020 | Rs. 18,989 |
| Aug 2020 | Rs. 18,599 |
| Aug 2020 | Rs. 18,989 |
| Aug 2020 | Rs. 19,100 |
| Aug 2020 | Rs. 18,989 |
| Dec 2020 | Rs. 21,000 |
| Jan 2021 | Rs. 21,500 |
| Feb 2021 | Rs. 21,999 |
| Mar 2021 | Rs. 22,500 |
| Mar 2021 | Rs. 24,500 |
| Jun 2021 | Rs. 27,000 |
| Jun 2021 | Rs. 24,500 |
| Aug 2021 | Rs. 27,000 |
| Aug 2021 | Rs. 24,500 |
| Aug 2021 | Rs. 27,000 |
| Aug 2021 | Rs. 24,500 |
| Oct 2021 | Rs. 27,000 |
| Feb 2022 | Rs. 24,500 |
| Feb 2022 | Rs. 27,000 |
| Aug 2022 | Rs. 27,000 |
EcoStar 32 Inch 32U571 LED TV Specs
General
| | |
| --- | --- |
| Screen Size | 32-inch |
| Resolution | 1366x768 (HD) |
| Smart Features | No |
| Built-in Woofer | No |
| Hdr | Yes |
| Curved Screen | No |
| Usb | Yes |
| Hdmi | Yes |
| Bluetooth | No |