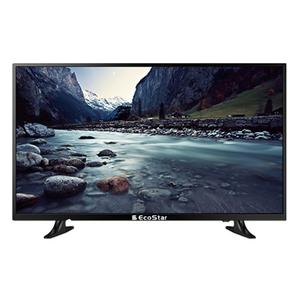 EcoStar 40 Inch 40U561 LED TV Price
The Lowest price of EcoStar 40 Inch 40U561 LED TV in Pakistan is Rs. 34,499, and the estimated average price is Rs. 34,499. Previously the price was Rs. 35,399 in February, approximately a 3% decrease. Latest Jun 2021 price from tracked on major eCommerce stores all across Pakistan.

EcoStar LED TV prices have gone up 7% in the last 30 days. EcoStar 40 Inch 40U561 LED TV is available at very limited stores online.
EcoStar is known for its budget-friendly electronics and the EcoStar 40U561 is no exception to this. The popular EcoStar 40U561 LED TV comes with a Full HD resolution, HDR capability, and USB and HDMI connectivity all in one package. The picture quality is excellent with great contrast, largely because of EcoStar's RealColor Engine that amplifies and fine-tunes the source. You can connect the EcoStar 40U561 with various input sources to stream your favorite content, but it does lack the smart TV features that we are now accustomed to. However, despite this, the EcoStar 40U561 is one of the most feature-rich and high-performing LED TVs that you will find in this price.
Screen Size: 40-inch
Resolution: 1920 x 1080 (FHD)
Smart Features: No
Hdmi: Yes
EcoStar 40 Inch 40U561 LED TV Price in Pakistan
The prices are collected from the best online stores in Pakistan like Symbios - updated Jun 2021.
Price Changes
| | |
| --- | --- |
| Date | Lowest Price |
| Feb 2019 | Rs. 31,749 |
| Feb 2019 | Rs. 30,000 |
| Feb 2019 | Rs. 31,749 |
| Mar 2019 | Rs. 31,900 |
| Mar 2019 | Rs. 29,400 |
| Mar 2019 | Rs. 29,395 |
| Apr 2019 | Rs. 29,099 |
| Jul 2019 | Rs. 29,325 |
| Jul 2019 | Rs. 29,099 |
| Nov 2019 | Rs. 30,000 |
| Mar 2020 | Rs. 30,600 |
| Apr 2020 | Rs. 34,499 |
| Jul 2020 | Rs. 33,999 |
| Sep 2020 | Rs. 29,100 |
| Dec 2020 | Rs. 33,999 |
| Jan 2021 | Rs. 34,499 |
| Jan 2021 | Rs. 33,999 |
| Feb 2021 | Rs. 34,499 |
| Feb 2021 | Rs. 35,399 |
| Mar 2021 | Rs. 34,499 |
| Jun 2021 | Rs. 34,499 |
EcoStar 40 Inch 40U561 LED TV Specs
General
| | |
| --- | --- |
| Screen Size | 40-inch |
| Resolution | 1920 X 1080 (Full Hd) |
| Smart Features | No |
| Built-in Woofer | No |
| Hdr | Yes |
| Curved Screen | No |
| Usb | Yes |
| Hdmi | Yes |
| Bluetooth | No |