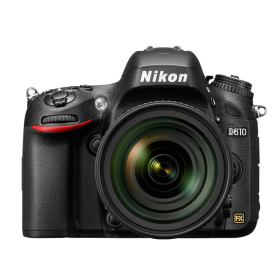 The Lowest price of Nikon D610 in Pakistan is Rs. 158,000, and the estimated average price is Rs. 158,000. Previously the price was Rs. 137,649 in July, approximately a 12% increase. Latest Oct 2023 price from tracked on major eCommerce stores all across Pakistan.

Nikon DSLR prices have gone down 3% in the last 30 days. Nikon D610 is available at very limited stores online.
Brand: Nikon
Lens mount: Nikon F bayonet mount
Image Sensor Format: FX
Image Sensor Type: CMOS
Megapixels: 24MP
The Nikon D610 is a high-end DSLR camera which produces sharp 24MP images with max resolution of 6016 x 4016. It has a relatively large, FX format, CMOS sensor of size 35.9 x 24 mm and resolution of up to 6038 x 4025. It has a sensitivity of ISO 100 - 6400 with Hi-2 (ISO 25,600). It can shoot FHD videos at 30 fps and has a Continuous Shooting speed of 6 fps. It also comes with a Li-Ion EN-EL15 rechargeable battery, Optical viewfinder and much more.
Nikon D610 Price in Pakistan
The prices are collected from the best online stores in Pakistan like HashmiPhotos - updated Oct 2023.
Price Changes
| | |
| --- | --- |
| Date | Lowest Price |
| Mar 2020 | Rs. 127,999 |
| Jun 2020 | Rs. 137,649 |
| Jun 2020 | Rs. 156,499 |
| Jun 2020 | Rs. 128,949 |
| Jun 2020 | Rs. 156,499 |
| Jun 2020 | Rs. 128,949 |
| Jun 2020 | Rs. 137,649 |
| Aug 2020 | Rs. 149,900 |
| Aug 2020 | Rs. 128,949 |
| Aug 2020 | Rs. 137,649 |
| Aug 2020 | Rs. 149,900 |
| Aug 2020 | Rs. 128,949 |
| Aug 2020 | Rs. 137,649 |
| Dec 2020 | Rs. 148,500 |
| Jan 2021 | Rs. 137,649 |
| Jan 2021 | Rs. 148,500 |
| Jan 2021 | Rs. 137,649 |
| Feb 2021 | Rs. 144,999 |
| Mar 2021 | Rs. 137,649 |
| Mar 2021 | Rs. 144,999 |
| Mar 2021 | Rs. 137,649 |
| Jun 2021 | Rs. 147,999 |
| Jun 2021 | Rs. 137,649 |
| Aug 2021 | Rs. 158,000 |
| Aug 2021 | Rs. 149,799 |
| Aug 2021 | Rs. 137,649 |
| Oct 2021 | Rs. 158,000 |
| Oct 2021 | Rs. 149,799 |
| Oct 2021 | Rs. 158,000 |
| Nov 2021 | Rs. 149,799 |
| Nov 2021 | Rs. 158,000 |
| Nov 2021 | Rs. 149,799 |
| Nov 2021 | Rs. 137,649 |
| Nov 2021 | Rs. 158,000 |
| Nov 2021 | Rs. 137,649 |
| Feb 2022 | Rs. 147,500 |
| Feb 2022 | Rs. 137,649 |
| Apr 2022 | Rs. 158,000 |
| Apr 2022 | Rs. 149,799 |
| Apr 2022 | Rs. 137,649 |
| Jun 2022 | Rs. 158,000 |
| Jun 2022 | Rs. 149,799 |
| Jun 2022 | Rs. 137,649 |
| Jul 2022 | Rs. 158,000 |
| Jul 2022 | Rs. 149,799 |
| Jul 2022 | Rs. 137,649 |
| May 2023 | Rs. 158,000 |
| Oct 2023 | Rs. 158,000 |