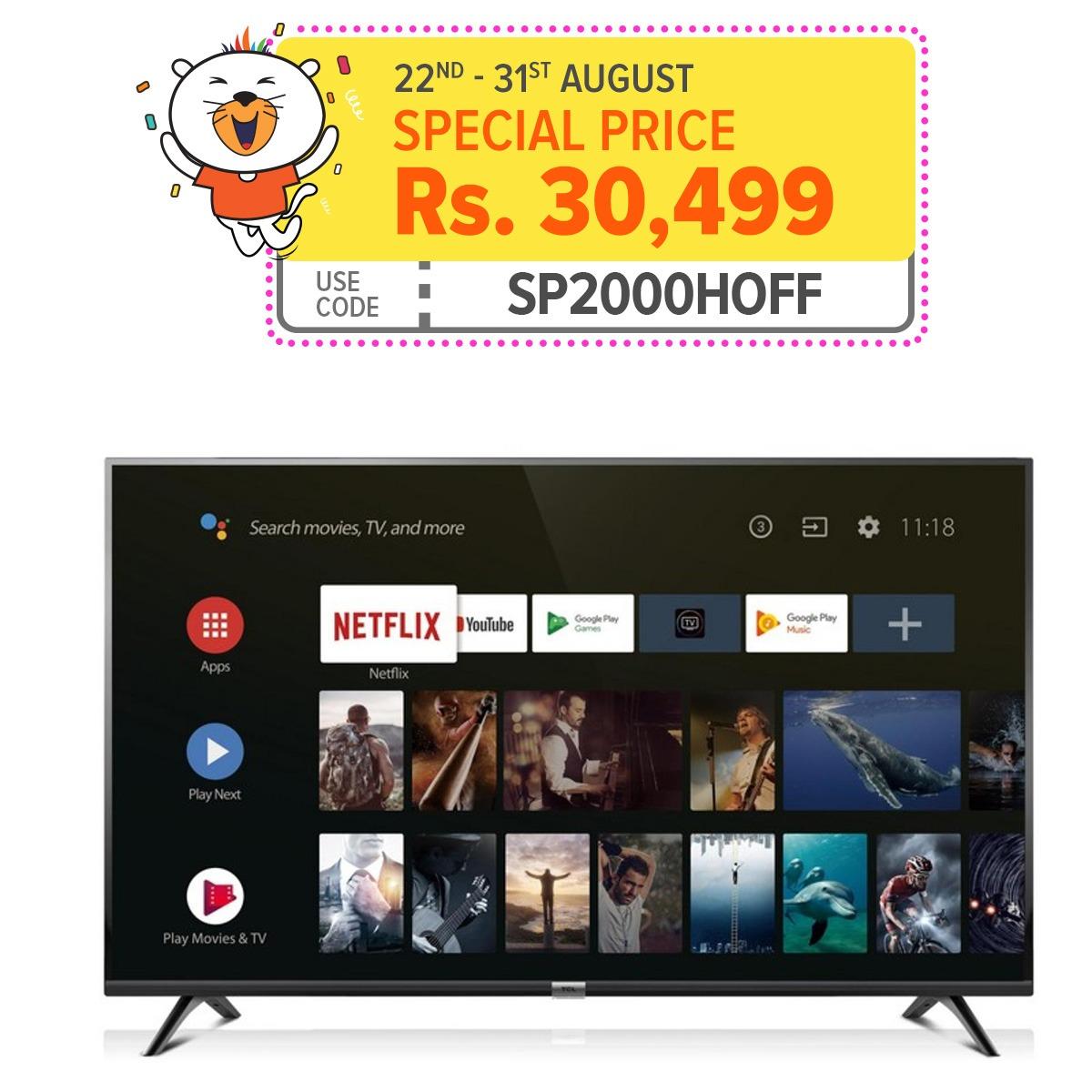 The Lowest price of TCL 32" A3 LED TV in Pakistan is Rs. 38,999, and the estimated average price is Rs. 38,999. Previously the price was Rs. 37,500 in May, approximately a 3% increase. Latest Jun 2021 price from tracked on major eCommerce stores all across Pakistan.

TCL LED TV prices have gone down 3% in the last 30 days. TCL 32" A3 LED TV is available at very limited stores online.
TCL 32" A3 is a smart Android powered Smart TV capable of smart features. It packs a 32-Inch HD screen with a resolution of 1366 x 768 pixels. Although the display is HD, the best part of the TV is the Android OS which lets you explore a whole lot of viewing options including Netflix and YouTube. The HDR 10 on this device optimizes the colors of scenes to enhance your viewing experience.
Screen Size: 32-Inch
Resolution: 1366 x 768 (HD)
Smart Features: Yes
HDMI: Yes
TCL 32" A3 LED TV Price in Pakistan
The prices are collected from the best online stores in Pakistan like Daraz.pk - updated Jun 2021.
Price Changes
| | |
| --- | --- |
| Date | Lowest Price |
| Mar 2020 | Rs. 29,499 |
| Jun 2020 | Rs. 32,990 |
| Jul 2020 | Rs. 30,999 |
| Aug 2020 | Rs. 30,499 |
| Sep 2020 | Rs. 30,000 |
| Sep 2020 | Rs. 32,990 |
| Sep 2020 | Rs. 31,499 |
| Oct 2020 | Rs. 30,999 |
| Oct 2020 | Rs. 33,499 |
| Oct 2020 | Rs. 30,999 |
| Dec 2020 | Rs. 32,990 |
| Dec 2020 | Rs. 33,499 |
| Dec 2020 | Rs. 32,990 |
| Jan 2021 | Rs. 33,499 |
| Jan 2021 | Rs. 32,990 |
| Jan 2021 | Rs. 33,499 |
| Feb 2021 | Rs. 32,990 |
| Feb 2021 | Rs. 33,499 |
| Mar 2021 | Rs. 35,999 |
| Mar 2021 | Rs. 36,999 |
| Apr 2021 | Rs. 35,999 |
| May 2021 | Rs. 36,999 |
| May 2021 | Rs. 37,500 |
| Jun 2021 | Rs. 38,999 |
| Jun 2021 | Rs. 38,999 |