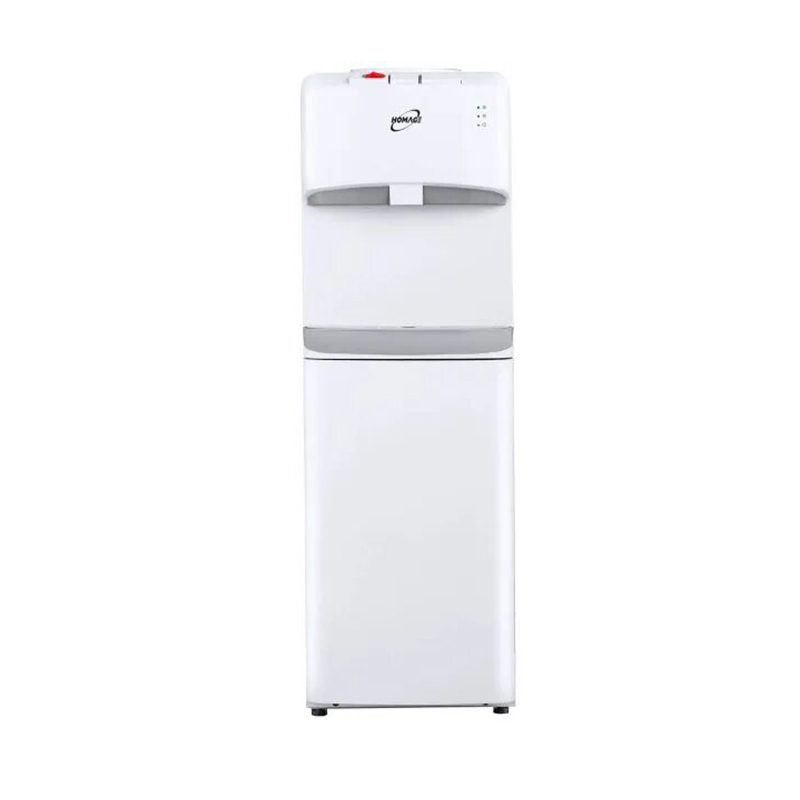 Homage HWD-49332 3 Tap Water Dispenser Price
The Lowest price of Homage HWD-49332 3 Tap Water Dispenser in Pakistan is Rs. 22,069, and the estimated average price is Rs. 25,394. Previously the price was Rs. 21,999 in October, approximately a 1% increase. Latest Dec 2022 price from tracked on major eCommerce stores all across Pakistan.

Homage Water Dispenser prices have gone down 45% in the last 30 days. Homage HWD-49332 3 Tap Water Dispenser is widely available online.
Tank material: Stainless steel
Taps: 3
Refrigerator: No
Homage HWD-49332 is a three taps water dispenser that comes with the features of low noise, child safety lock, double safety device, LED indicators, high-efficiency compressor cooling, and stainless steel water tank. Its child lock feature provides protection for kids against burns while low noise design gives you a comfortable experience. The double safety device prevents overheating. Another modern feature of this water dispenser is LED indicators for hot and cold water. Moreover, the stainless steel tank prevents rust and provides you with clean and healthy water whenever you want. Its three-tap design provides you with hot, cold, and normal water as you like.
Homage HWD-49332 3 Tap Water Dispenser Price in Pakistan
The prices are collected from the best online stores in Pakistan like iShopping.pk, Alfatah.com.pk, Telemart.pk, Aysonline.pk - updated Dec 2022.
Price Changes
| | |
| --- | --- |
| Date | Lowest Price |
| Jun 2022 | Rs. 22,069 |
| Jun 2022 | Rs. 19,199 |
| Aug 2022 | Rs. 22,069 |
| Aug 2022 | Rs. 19,199 |
| Aug 2022 | Rs. 22,069 |
| Sep 2022 | Rs. 19,199 |
| Sep 2022 | Rs. 22,069 |
| Oct 2022 | Rs. 21,999 |
| Oct 2022 | Rs. 22,069 |
| Dec 2022 | Rs. 22,069 |
Homage HWD-49332 3 Tap Water Dispenser Specs
General
| | |
| --- | --- |
| Tank Material | Stainless Steel |
| Taps | 3 |
| Refrigerator | No |
| Led indicators | Yes |
| Child lock | Yes |
| Low noise operation | Yes |