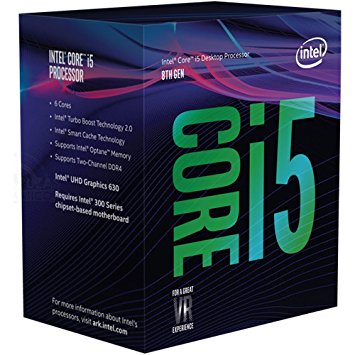 The Lowest price of Intel Core i5 8400 in Pakistan is Rs. 30,000, and the estimated average price is Rs. 38,100. Previously the price was Rs. 34,000 in May, approximately a 14% decrease. Latest Jun 2021 price from tracked on major eCommerce stores all across Pakistan.

Intel prices have gone down 1% in the last 30 days. Intel Core i5 8400 is available at very limited stores online.
The Intel Core i5-8400 is known as the best CPU of Intel for gamers. It is a mid-range performance processor that is based on the coffee lake structure. The Intel i5-8400 is one the of most affordable Coffee Lake processors and is a great little-budget processor, which makes it the top priority for gamers. There is nothing that can prevent you from buying this chip.
Generation: 8th Generation
Base Clock Speed: 2.8 GHz
# of Cores: 6 Cores
# of Threads: 6 Threads
Turbo Clock Speed: 4.0 GHz
TDP: 65 W
Cache: 9 MB
Intel Core i5 8400 Price in Pakistan
The prices are collected from the best online stores in Pakistan like Daraz.pk, Tejar - updated Jun 2021.
Price Changes
| | |
| --- | --- |
| Date | Lowest Price |
| Jan 2020 | Rs. 29,800 |
| Mar 2020 | Rs. 29,999 |
| Apr 2020 | Rs. 30,999 |
| Jun 2020 | Rs. 30,900 |
| Aug 2020 | Rs. 33,900 |
| Aug 2020 | Rs. 30,900 |
| Aug 2020 | Rs. 33,900 |
| Aug 2020 | Rs. 30,900 |
| Oct 2020 | Rs. 33,000 |
| Nov 2020 | Rs. 33,900 |
| Nov 2020 | Rs. 33,000 |
| Dec 2020 | Rs. 33,500 |
| Jan 2021 | Rs. 34,000 |
| Jan 2021 | Rs. 33,500 |
| Apr 2021 | Rs. 30,000 |
| May 2021 | Rs. 34,000 |
| Jun 2021 | Rs. 30,000 |
| Jun 2021 | Rs. 30,000 |