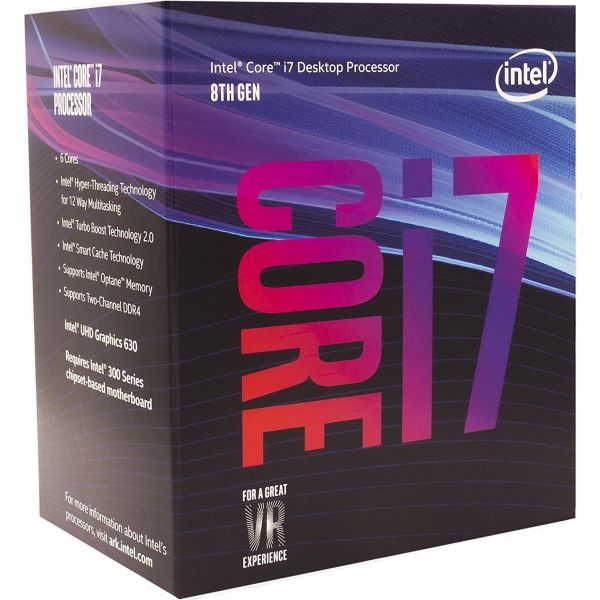 The Lowest price of Intel Core i7 8700 in Pakistan is Rs. 98,999, and the estimated average price is Rs. 99,499. Previously the price was Rs. 59,000 in June, approximately a 40% increase. Latest Dec 2023 price from tracked on major eCommerce stores all across Pakistan.

Intel prices have gone down 33% in the last 30 days. Intel Core i7 8700 is available at very limited stores online.
Generation: 8th Generation
Base Clock Speed: 3.2 GHz
# of Cores: 6 Cores
# of Threads: 12 Threads
Turbo Clock Speed: 4.6 GHz
TDP: 65 W
Cache: 12 MB
The Intel Core i7-8700 is an 8th generation high-end desktop microprocessor that comes with Intel's Turbo Boost technology. This processor enables hyper-threading and can execute up to 12 threads simultaneously. The Intel i7-8700 is ideal for most demanding applications. You should put your hands on this for higher performance due to its clock rate, which is increased by 50 MHz.
Intel Core i7 8700 Price in Pakistan
The prices are collected from the best online stores in Pakistan like Symbios - updated Dec 2023.
Price Changes
| | |
| --- | --- |
| Date | Lowest Price |
| Sep 2020 | Rs. 56,990 |
| Nov 2020 | Rs. 59,499 |
| Dec 2020 | Rs. 47,999 |
| Jan 2021 | Rs. 53,000 |
| Jan 2021 | Rs. 47,999 |
| Feb 2021 | Rs. 45,000 |
| Mar 2021 | Rs. 43,500 |
| Apr 2021 | Rs. 50,000 |
| Apr 2021 | Rs. 45,000 |
| May 2021 | Rs. 50,000 |
| May 2021 | Rs. 56,000 |
| Jun 2021 | Rs. 53,000 |
| Jun 2021 | Rs. 56,000 |
| Jun 2021 | Rs. 50,000 |
| Jul 2021 | Rs. 45,000 |
| Aug 2021 | Rs. 45,000 |
| Sep 2021 | Rs. 45,000 |
| Oct 2021 | Rs. 59,000 |
| Oct 2021 | Rs. 45,000 |
| Oct 2021 | Rs. 45,000 |
| Jan 2022 | Rs. 45,000 |
| Jan 2022 | Rs. 80,000 |
| Feb 2022 | Rs. 80,000 |
| Jun 2022 | Rs. 59,000 |
| Dec 2023 | Rs. 98,999 |