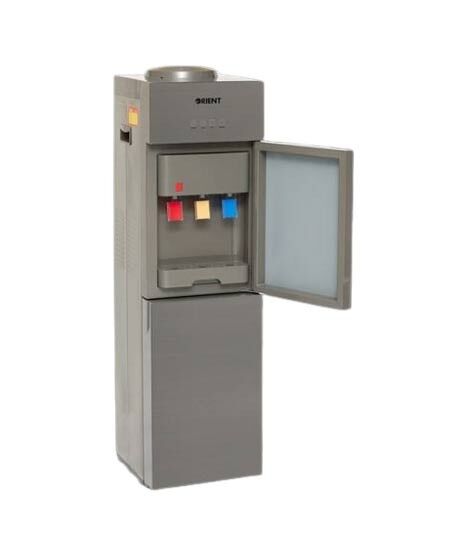 Orient Flare 3 Tap Water Dispenser Price
The Lowest price of Orient Flare 3 Tap Water Dispenser in Pakistan is Rs. 27,876, and the estimated average price is Rs. 29,050. Previously the price was Rs. 24,999 in August, approximately a 10% increase. Latest Aug 2022 price from tracked on major eCommerce stores all across Pakistan.

Orient Water Dispenser prices have gone down 1% in the last 30 days. Orient Flare 3 Tap Water Dispenser is available at very limited stores online.
Capacity: 3.5 L
Tank material: Stainless steel
Taps: 3
Refrigerator: Yes
Orient Flare three taps water dispenser is specially designed to fulfill your daily water consumption needs. It is the tallest water dispenser in the market with a glass door design that looks stylish and beautiful. With the fastest cooling technology in your Orient water dispenser, you will enjoy cold water in the lowest possible time. Another interesting feature is the cooling retention technology that provides a continuous cold water supply. Moreover, the refrigerator compartment at the bottom allows you to store your food and drinks. The stainless steel tank is rustproof that provides healthy and clean water. Moreover, its specially designed taps easily dispense water to give you a very comfortable experience.
Orient Flare 3 Tap Water Dispenser Price in Pakistan
The prices are collected from the best online stores in Pakistan like iShopping.pk, Telemart.pk, Daraz.pk - updated Aug 2022.
Price Changes
| | |
| --- | --- |
| Date | Lowest Price |
| Apr 2022 | Rs. 24,900 |
| Apr 2022 | Rs. 23,999 |
| May 2022 | Rs. 24,900 |
| May 2022 | Rs. 23,999 |
| May 2022 | Rs. 24,900 |
| May 2022 | Rs. 26,400 |
| Jun 2022 | Rs. 26,234 |
| Jun 2022 | Rs. 26,499 |
| Jul 2022 | Rs. 27,876 |
| Aug 2022 | Rs. 24,999 |
| Aug 2022 | Rs. 27,876 |
| Aug 2022 | Rs. 27,876 |
Orient Flare 3 Tap Water Dispenser Specs
General
| | |
| --- | --- |
| Capacity | 3.5 L |
| Tank Material | Stainless Steel |
| Taps | 3 |
| Refrigerator | Yes |
| Child lock | Yes |
| Instant cooling | Yes |