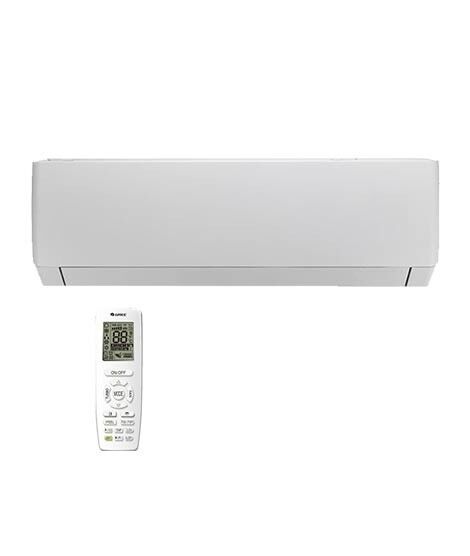 Gree GS-12PITH2W Inverter AC - 1 Ton Price
The Lowest price of Gree GS-12PITH2W Inverter AC - 1 Ton in Pakistan is Rs. 149,939, and the estimated average price is Rs. 152,469. Previously the price was Rs. 146,999 in July, approximately a 1% increase. Latest Sep 2023 price from tracked on major eCommerce stores all across Pakistan.

Gree Air Conditioners prices have gone down 4% in the last 30 days. Gree GS-12PITH2W Inverter AC - 1 Ton is available at very limited stores online.
Capacity: 1 Ton
Inverter Or Fixed: Inverter Ac
Energy Saving: Yes
Room Size : Up to 120 Square Feet
Wi-fi: No
BTU (Per Hour): 12000 BTUs/ hour
GS-12PITH2W inverter AC from Gree comes equipped with the features of health filters, low noise operation, hidden LED display, seven fan speed, cold Plasma generator, ultra low-frequency torque control, energy efficiency class A+, precise temperature control, turbo mode, sleep mode, auto restart, child lock, power factor correction technology up to 99%, single panel easy-clean filters, double air deflector which can provide air even at 90-degree direction, and much more. 3D airflow ensures the air conditioning of the entire room. This AC can start even at 150V during power fluctuations. Low noise function provides you with extreme comfort and its elegant design with a matte finish makes it an attractive addition to your home.
Gree GS-12PITH2W Inverter AC - 1 Ton Price in Pakistan
The prices are collected from the best online stores in Pakistan like Mega.pk, Daraz.pk - updated Sep 2023.
Price Changes
| | |
| --- | --- |
| Date | Lowest Price |
| Apr 2022 | Rs. 87,999 |
| Apr 2022 | Rs. 89,900 |
| Apr 2022 | Rs. 90,000 |
| Apr 2022 | Rs. 87,999 |
| Apr 2022 | Rs. 90,000 |
| May 2022 | Rs. 90,900 |
| Jun 2022 | Rs. 91,400 |
| Jun 2022 | Rs. 92,000 |
| Mar 2023 | Rs. 133,080 |
| Apr 2023 | Rs. 151,999 |
| Jun 2023 | Rs. 150,900 |
| Jun 2023 | Rs. 151,999 |
| Jun 2023 | Rs. 150,900 |
| Jun 2023 | Rs. 151,999 |
| Jul 2023 | Rs. 146,999 |
| Jul 2023 | Rs. 154,900 |
| Jul 2023 | Rs. 146,999 |
| Aug 2023 | Rs. 149,939 |
| Sep 2023 | Rs. 149,939 |
Gree GS-12PITH2W Inverter AC - 1 Ton Specs
General
| | |
| --- | --- |
| Capacity | 1 Ton |
| Inverter Or Fixed | Inverter Ac |
| Energy Saving | Yes |
| Wi-fi | No |
| BTU (Per Hour) | 12000 BTUs/ Hour |
| Room Size | Up to 120 Square Feet |