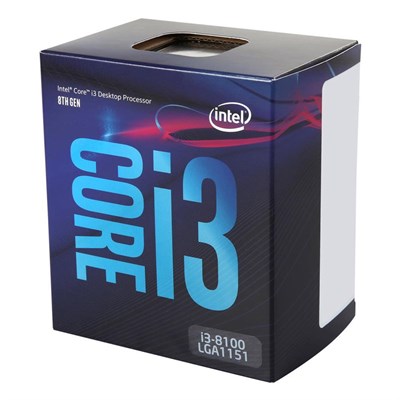 The Lowest price of Intel Core i3 8100 in Pakistan is Rs. 19,500, and the estimated average price is Rs. 19,500. Previously the price was Rs. 12,239 in November, approximately a 37% increase. Latest Dec 2023 price from tracked on major eCommerce stores all across Pakistan.

Intel prices have gone down 33% in the last 30 days. Intel Core i3 8100 is available at very limited stores online.
Generation: 8th Generation
Base Clock Speed: 3.6 GHz
# of Cores: 4 Cores
# of Threads: 4 Threads
TDP: 65 W
Cache: 6 MB
The Intel Core i3-8100 is the most basic CPU of the Core i3 series that is based on the Coffee Lake microarchitecture. It does not include a turbo boost but is still ideal for gaming and working. The Inter core i3-8100 is one of the cheapest gaming CPUs you can buy today. If you want the total value of your money, this CPU should be the most considerable option.
Intel Core i3 8100 Price in Pakistan
The prices are collected from the best online stores in Pakistan like Shopperspk.com - updated Dec 2023.
Price Changes
| | |
| --- | --- |
| Date | Lowest Price |
| May 2020 | Rs. 19,500 |
| Jun 2020 | Rs. 20,900 |
| Jun 2020 | Rs. 19,500 |
| Dec 2020 | Rs. 13,499 |
| Dec 2020 | Rs. 14,499 |
| Dec 2020 | Rs. 13,799 |
| Dec 2020 | Rs. 12,999 |
| Jan 2021 | Rs. 18,500 |
| Apr 2021 | Rs. 19,500 |
| Jun 2021 | Rs. 18,500 |
| Jun 2021 | Rs. 19,500 |
| Oct 2022 | Rs. 12,000 |
| Nov 2022 | Rs. 19,500 |
| Jul 2023 | Rs. 13,999 |
| Jul 2023 | Rs. 13,579 |
| Jul 2023 | Rs. 19,500 |
| Jul 2023 | Rs. 13,579 |
| Jul 2023 | Rs. 13,999 |
| Aug 2023 | Rs. 13,159 |
| Aug 2023 | Rs. 13,999 |
| Sep 2023 | Rs. 13,799 |
| Sep 2023 | Rs. 19,500 |
| Sep 2023 | Rs. 13,399 |
| Oct 2023 | Rs. 19,500 |
| Oct 2023 | Rs. 13,399 |
| Nov 2023 | Rs. 12,239 |
| Nov 2023 | Rs. 19,500 |
| Dec 2023 | Rs. 19,500 |