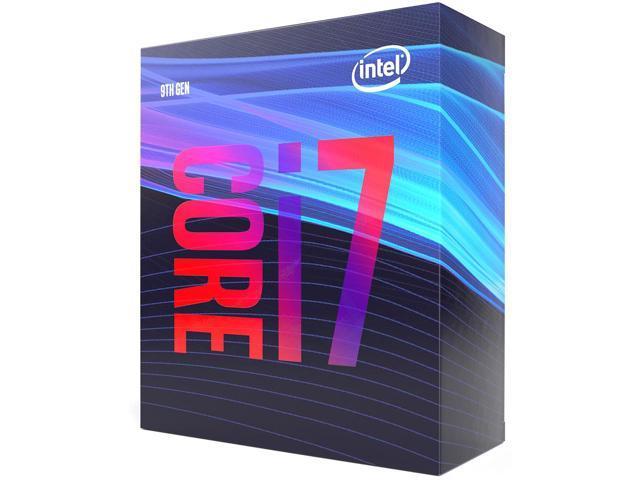 The Lowest price of Intel Core i7 9700 in Pakistan is Rs. 55,000, and the estimated average price is Rs. 66,955. Previously the price was Rs. 64,499 in May, approximately a 18% decrease. Latest Jun 2021 price from tracked on major eCommerce stores all across Pakistan.

Intel prices have gone down 1% in the last 30 days. Intel Core i7 9700 is widely available online.
The Intel Core i7-9700 is a 9th generation high-end desktop processor. It is based on the coffee lake architecture that offers an open multiplicator for overclocking. It can be used for designing, development, gaming, and for any other purpose that needs a high-end processor. The Core i7-9700 is one of the best options to consider when buying a processor.
Generation: 9th Generation
Base Clock Speed: 3.0 GHz
# of Cores: 8 Cores
# of Threads: 8 Threads
Turbo Clock Speed: 4.7 GHz
TDP: 65 W
Cache: 12 MB
Intel Core i7 9700 Price in Pakistan
The prices are collected from the best online stores in Pakistan like Daraz.pk, Shophive, iShopping.pk, Shopperspk.com - updated Jun 2021.
Price Changes
| | |
| --- | --- |
| Date | Lowest Price |
| Jan 2020 | Rs. 53,999 |
| May 2020 | Rs. 61,500 |
| May 2020 | Rs. 61,899 |
| Jul 2020 | Rs. 61,999 |
| Jul 2020 | Rs. 64,299 |
| Jul 2020 | Rs. 65,500 |
| Jul 2020 | Rs. 64,299 |
| Jul 2020 | Rs. 65,500 |
| Aug 2020 | Rs. 65,999 |
| Aug 2020 | Rs. 65,500 |
| Aug 2020 | Rs. 64,999 |
| Aug 2020 | Rs. 64,000 |
| Sep 2020 | Rs. 64,999 |
| Oct 2020 | Rs. 63,499 |
| Oct 2020 | Rs. 62,000 |
| Oct 2020 | Rs. 63,499 |
| Nov 2020 | Rs. 52,700 |
| Nov 2020 | Rs. 57,999 |
| Dec 2020 | Rs. 64,000 |
| Dec 2020 | Rs. 64,999 |
| Jan 2021 | Rs. 65,000 |
| Jan 2021 | Rs. 64,999 |
| Jan 2021 | Rs. 60,000 |
| Jan 2021 | Rs. 64,999 |
| Jan 2021 | Rs. 54,000 |
| Jan 2021 | Rs. 60,000 |
| Mar 2021 | Rs. 57,000 |
| Mar 2021 | Rs. 55,000 |
| May 2021 | Rs. 64,499 |
| Jun 2021 | Rs. 55,000 |
| Jun 2021 | Rs. 55,000 |